This dialogue-free comedy evokes Jacques Tati in its portait of outcasts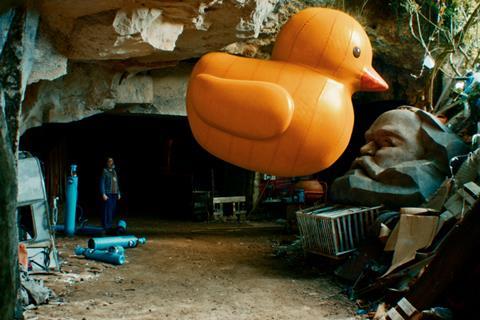 Dir/scr. Pascal Rabaté. France. 2020. 85 mins
In Pascal Rabaté's dialogue-free comedy, appropriately entitled The Voiceless, a throwaway society is rejected by the very people that society rejects. Set within a small community of outcasts who make their life in a cave under a rubbish dump, the film is driven by eccentricity and a spirit of anarchy rather than a neat and linear storyline. Life within this unconventional set-up takes in the full gamut of the human experience (although with markedly less attention paid to personal hygiene). Love blossoms, jealousy simmers, bereavement strikes. But this self-contained and trash-sustained existence is threatened: a local police chief has made it his mission to seek them out and bring them to justice.
The film struggles to deliver much in the way of characterisation beyond the use of props
This is the fourth feature from Rabaté, well known in France for his work as a comic book author. With The Voiceless, he revisits the wordless approach to storytelling that he first employed in Holidays By The Sea. The influence of Jacques Tati is evident, although this picture rejects the fine-tuned precision of Tati's comedy in favour of a lawless, chaotic approach which feels almost cartoonish at times. There are parallels, too, with Jean-Pierre Jeunet's Micmacs, both in the rubbish dump backdrop and in the casting of Yolande Moreau in a key role. An unusual curio, the picture seems likely to fare best at festivals, with adventurous audiences open to a rather freeform approach to storytelling.
Production designer Angelo Zamparutti goes all out on the community's catacomb homestead – accessed by a rickety bridge made of abandoned dining chairs, the space is decorated with whatever detritus can be salvaged. This includes a giant sculpture of Karl Marx's head, a massive inflatable duck, a cement mixer, several blowup sex toys and a live piglet (there were two, but one ended up on a barbecue and then under a lawnmower). Costume is equally eccentric, and is frequently adorned with unsavoury stains.
In the absence of dialogue, characters tend to be defined by design, each being assigned an item without which they are rarely seen. Moreau hauls around a shotgun with a seemingly inexhaustible supply of cartridges; Philippe Rigot's rickety old-timer is perpetually clattering around with a lawnmower; twins Alexandre and Timothée Prince sport an assortment of matching hats; and François Morel's Clouseau-esque cop is perpetually chewing on a plastic coffee stirrer.
The film struggles to deliver much in the way of characterisation beyond the use of props, however. Dialogue-free cinema works better with a single character, or at most a pair, as a focus, as with Tati or the films of Dominique Abel and Fiona Gordon. With this ensemble cast, albeit a relatively small one, even the main characters are thinly sketched.
This wouldn't matter so much if the physical comedy was sharper, but for all the clowning, the actual laughs are few and far between. It's a film which, with its art house-meets-gross out-meets-mime approach, might be more dependent than most on the collective viewing experience in order for the jokes to land.
Production company: Loin Derrière L'Oural
International sales: Films Boutique, contact@filmsboutique.com
Producer: Xavier Delmas
Editing: Aurélien Manya
Cinematography: Noé Bach
Production design: Angelo Zamparutti
Music: Jocelyn Robert
Main cast: Yolande Moreau, Gustave Kervern, François Morel, Soazig Ségalou, Romain Francisco, Vincent Martin, Philippe Rigot, Alexandre Prince, Timothée Prince