Dir. Peter Foott. Ireland, 2016, 84 minutes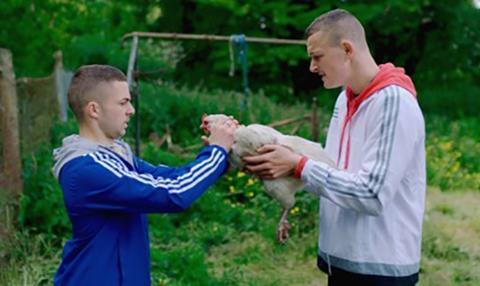 Already a sizable hit in its native Ireland (€800,000 and counting), and Best Irish Feature joint winner at the Galway Film Fleadh in July, teen-buddy comedy of idiocy The Young Offenders now looks set to charm niche international audiences following its UK premiere at the London Film Festival. Inspired by Ireland's biggest cocaine seizure of €440m off the coast of western Cork in 2007, this winning fictional tale sees two working class 15 year-olds from Cork setting off on stolen bicycles in the hopes of finding a missing bale, valued at €7m. Amiable comic misadventures ensue, building to a dramatic reckoning back in their home city.
The Young Offendersis well-served by its two young lead actors, here delivering impressive screen debuts.
The film is narrated by sweet-natured Conor MacSweeney (Alex Murphy), a short-of-stature teenager who looks up – literally and figuratively – to his more adventurous schoolfriend Jock (Chris Walley). With home lives that mirror each other – Conor is absent a father, Jock a mother, and neither have siblings – the pair have become enthusiastic partners in crime, with similarly styled cropped haircuts, shaved eyebrow slits, chunky silver chains, earrings, sportswear, hoodies and gold signet rings.
A key difference is that Conor has a mother (Hilary Rose) who is trying her best, tolerating his abysmal work ethic at her city market fish stall, while Jock has an alcoholic, abusive father (Michael Sands) who snatches away any cash that might come the lad's way.
The Young Offenders begins with the dopey duo fantasising about how they would spend a large cash windfall – conveniently setting the scene for when just such an opportunity presents itself. In fact, writer-director Foott's feature debut screenplay wastes no expository moment, and you can be sure that any morsel of information offered up – from Conor's preference for chicken-based meals to Jock's lamentable underwear impoverishment – will deliver some kind of narrative dividend down the line.
A rather generic nemesis comes courtesy of a jobsworth local cop (Dominic MacHale), who has presciently placed a tracking device on one of the bikes stolen by Jock, and so is able to follow the pair most of the 100-mile journey to Three Castle Head. By the time the tale violently climaxes in Mrs MacSweeney's kitchen, you can be sure that the excessively diligent Sergeant Healy is the least of the boys' problems.
The Young Offenders is well-served by its two young lead actors, here delivering impressive screen debuts. The boyish Murphy is a particular asset as the audience's point of identification, nicely trading off his character's relative moral scruples, but it's ultimately the lads' friendship and loyalty that carries the good-natured film along, especially in the road-trip middle section. Another key component is the mother-son relationship, which finally earns its emotional payoff thanks to a resolute unsentimentality ("Mam cooks like she hates food").
Technical aspects are hardly lavish, although Paddy Jordan's crisp lensing makes rural Cork look amply appealing. A promiscuous score, turning on a sixpence from composer Ray Harman's string orchestrations to West Coast rapper Xzibit to quirky Irish indie pop Sultans Of Ping FC (1992 hit Where's Me Jumper?"), works overtime to rather diminishing returns. Thick Cork accents may require subtitling for English-speaking markets in North America and further afield.
Production company: Vico Films
International sales: Carnaby, lorianne@carnabyinternational.com
Producers: Peter Foott, Julie Ryan
Screenplay: Peter Foott
Cinematography: Paddy Jordan
Editor: Colin Campbell
Music: Ray Harmen
Main cast: Alex Murphy, Chris Walley, Hilary Rose, Dominic MacHale, PJ Gallagher, Shane Casey, Pascal Scott, Michael Sands, Ciaran Bermingham