A passive woman finds a new love of violence in the high-octane new film from German director Jakob Lass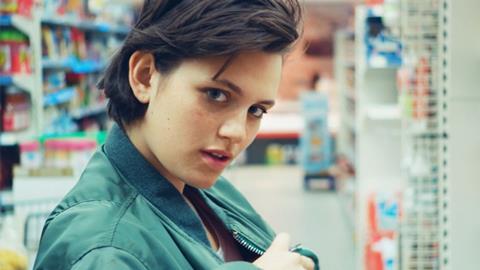 Dir. Jakob Lass. Germany. 2017. 90 mins
With its nervy, caffeinated camerawork; saturated palette of dayglo and neon, stylised violence and the good-girl-gone-bad trajectory, this feels like an adrenalised blend of Celine Sciamma's Girlhood, Thelma And Louise and just a touch of Tank Girl.
This particular brand of twisted kickass feminism makes for an undeniably entertaining, if lurid, ninety minutes of escapism.
Director Jakob Lass, who scored a hit in 2013 with his second feature Love Steaks, here follows the 'FOGMA' manifesto that he developed while working on that film. Loosely based on the Danish Dogme movement, FOGMA emphasises risk-taking and teamwork in filmmaking, and one of the main tenets is that the dialogue is improvised. The result is a naturalism in the performances which provides an interesting contrast to some of the more cartoonish elements - the slick violence, the colour-popping production design. It all adds up to a breakneck pace and the kind of fizzing, unpredictable energy which should connect with a younger audience. While it doesn't have anything approaching the bold and original formal device of Sebastian Schipper's Victoria, it has a similar hip appeal.
Doormat Maggie (Maria Dragus) has humiliatingly failed the entrance test for the police force and has downgraded has aspirations to training as a security guard for the time being. She's a pushover in day-to-day life, and her learned powerlessness occasionally puts her at risk. Then she meets Tiger (Ella Rumpf), a baseball bat wielding guardian angel who rechristens her Vanilla the Killer. And not only does Maggie start to stand up for herself, she begins to get a kick out of violence.
A punchily edited opening sequence introduces Maggie/Vanilla as a girl who is crippled by her own lack of assertiveness. She has her parking space stolen by a woman in a 4x4, she finds herself getting pressured into bed by one of her fellow police cadets. Each time, a mysterious androgynous girl materialises and comes to her aid.
Tiger is so ubiquitous that, after a shoplifting incident, you start to wonder if she is a Tyler Durden-style alternate personality spawned out of Maggie's helplessness. But it becomes clear that Tiger is a character in her own right. And a music video-style montage of shots of Tiger looking impossibly cool ensures that the audience is as smitten as Maggie is by this boyish free spirit who steals and fights and parties with abandon. The tumbling, antsy camera becomes uncharacteristically still as it pauses to gaze up at Ella Rumpf's chiselled jawline.
Empowered by borrowed security guard uniforms, the girls run riot. Their activities run the gamut from petty theft, sexual harassment of young men to a booze-sodden heist in an art gallery. Vanilla embraces her new identity, displaying an addict's hunger for new and stronger highs. Tensions rise between Vanilla and the two men with whom Tiger lives in a squatted attic. And unlike her partner in crime, Vanilla doesn't always need a reason for violence, just an opportunity.
The propulsive energy of the first hour starts to disintegrate a little in the second when the powerful double act of Tiger and Vanilla share less screen time. And a glib final scene leads us to question what exactly the film is trying to say. Still, this particular brand of twisted kickass feminism makes for an undeniably entertaining, if lurid, ninety minutes of escapism.

Production company: Fogma
International sales: Picture Tree International pti@picturetree-international.com
Producers: Ines Schiller, Golo Schultz
Screenplay: Jakob Lass, Ines Schiller, Hannah Schopf, Nico Woche, Eva-Maria Reimer
Cinematography: Timon Schäppi
Editor: Gesa Jäger, Adrienne Hudson
Production design: Friederike Gast
Score: Golo Schultz
Starring: Ella Rumpf, Maria Dragus, Enno Trebs, Orce Feldschau, SWISS, Benjamin Lutzke, Franz Rogowski, Ulrik Bruchholz, Lana Cooper, Robert Gwisdek