A disgraced fisherman struggles with ghosts of the past in Mexican director Ruben Imaz's fourth feature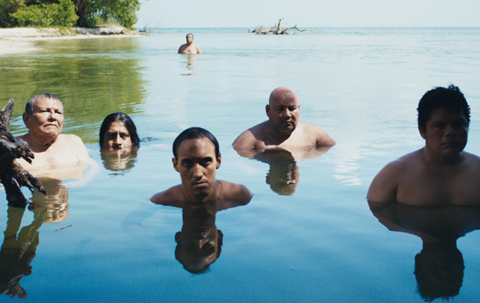 Dir: Ruben Imaz. Colombia/Dominican Republic/Mexico, 2017. 80mins
Hypnotic, painterly and resolutely ambiguous, Mexican director Ruben Imaz's fourth feature Tormentero (which translates to 'stormmaker') takes a meditative look at late-life remorse and regret with its portrait of aged, disgraced fisherman Romero Kantun (Jose Carlos Riaz).
While Tormentero's narrative meanders, it finds a more focused voice in its striking visuals
More a series of stunningly composed shots than a narrative per se, the film proves something of a beautiful frustration in that regard. While local interest is likely to be strong, and its stellar cinematography and compelling central performance from Mexican veteran Riaz may be enough to extend its festival life after its US bow at SXSW, it may struggle to connect with audiences outside of the festival cloister.
Nothing is explained in Riaz (Familia Tortuga) and co-writer Fernando del Razo''s sparse screenplay, inspired by real-life events. Initial on-screen quotes tell of a fisherman discovering a huge oil slick; we learn that man is Romero, or Don Rome, who, decades after making the deadly discovery which ruined his community's livelihood and saw him become an outcast, is struggling to recapture the dignity and love he has lived without for so long.
It may be that Don Rome is approaching the end of his life; that is never explicitly made clear, but the film certainly has an other-worldy quality that seems to straddle the space between the living and the dead. As Don Rome wanders, drunk and aimless, from his dark, candle-lit home to the bright golden sands and back again, speaking to people who may or may not be there, the shadow of his past threatens to overwhelm him. It's clear from a conversation with a census taker that Don Rome is no longer in full possession of his mental faculties, and is an unreliable, if intriguing, protagonist.
Supporting characters - particularly Yolanda (Monica Jimenez) and a man who, at various times, is called both Chacho and Ariel (Gabino Rodriguez), who appear to be Don Rome's troubled children - flit in and out of scenes. Elsewhere, Don Rome seeks to marry a woman who seems to be his absent wife's sister, sees himself asleep on the floor, disappears in a flash of lightning and starts an ancient car without driving it anywhere; fragments of a life, real or imagined, that are defiantly slippery in meaning.
While Tormentero's narrative meanders, it finds a more focused voice in its striking visuals. Working with cinematographer Gerardo Barroso, Imaz has choreographed the film to the last detail. Lingering shots of trees, of Don Rome drinking alone, of a wooden pier, and so on, are all composed with a painter's touch, a series of portraits whose individual beauty stands apart from the film itself.
José Miguel Enríquez's sound design, too, is evocative and well-crafted; crackling radios and booming thunder recurring aural motifs that suggest Don Rome's increasingly distorted perception of reality and, perhaps, the cataclysmic final judgement that he knows awaits. The pulsing soundtrack, together with Barrasso's frequent, unsettling tracking close-ups on walls, rusty chains and other everyday ephemera, gives the film a unique horror movie sensibility that may help it find an appreciative audience despite its non-traditional narrative.
Production company: Axolote Cine
International sales: Mundial www.mundialsales.com
Producers: Julio Bárcenas, Rubén Imaz, Oscar Ruiz Navia, Gerylee Polanco, Laura Amelia Guzmán, Israel Cárdenas
Executive producers: Matias Meyer, Yulene Olaizola
Screenplay: Fernando del Razo, Rubén Imaz
Production design: Sofía Guzmán, Claudio Castelli
Editors: Israel Cárdenas, Rubén Imaz
Music: Galo Durán, Camilo Plaza
Main cast: José Carlos Ruiz, Gabino Rodríguez, Mónica Jiménez, Waldo Facco