Love doesn't last in this romantic drama about a couple who realise they hate each other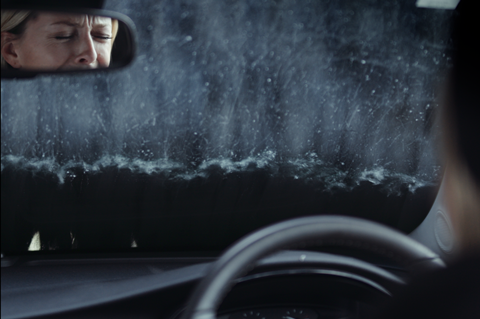 Dir/scr: Alexander Milo Bischof. UK. 2020. 89 mins
A couple meet, spark, move in together and then gradually realise that they hate everything about each other in this brisk skim-reading of doomed love. Henry (Dylan Edwards) is an artist by vocation; Tess (Ruth Kearney) is a lawyer by career. The fact that neither can fully understand each other's life choices is one of several wedges which drive them apart (another is the fact that Henry is insufferable). Trouble Will Find Us pulls no punches in its depiction of a relationship turned toxic, but the audience is required to dig deep to find anything in the way of sympathy for either of them.
Some scenes successfully dissect the mounting tensions between them
Focussing entirely on a relationship is a risky strategy for a film. It is particularly so when, unlike Harry Wootliff's superficially similar Only You, which dealt with the wrenching effects of infertility, the trials that this couple have to endure are pretty much of their own making. Although handsomely shot and driven by two authentic, if not entirely likeable performances, this picture offers little in the way of novel insights and as such might struggle to progress far beyond the festival circuit.
While the screenplay lacks a concrete divisive hurdle which the couple must either overcome or succumb to (their main issue is that they are simply too different), writer/director Alexander Milo Bischof astutely captures the angular awkwardness of early flirtation. Henry and Tess meet at an exhibition opening in a small private gallery somewhere in London. She's alone and unimpressed with the art. He sidles up and asks what she makes of a picture. She's casually damning: "There's a lot going on." It turns out, of course, that he is the artist. She's torn between mortification and amusement. Equally maladroit is a moment in which Henry gets carried away describing the notorious Spud bed-soiling scene from Trainspotting (she hasn't seen the film, he isn't exactly selling it to her).
In the early stages of their time together, they find each other's failings charming. He's a terrible cook and, unlike her, is a committed meat-eater. She has a weakness for a brain-dead soap opera and insists that they both watch it. She snores. He writes poetry. But they're in love enough to dance to their own tune on a balcony decorated with quirky plastic flamingos and fairy lights.
The first sign of friction comes when Tess suggests a long weekend away and Henry, who isn't exactly setting the art world alight, has to admit that he can't afford it. Then when his forthcoming show is abruptly cancelled, Tess undiplomatically suggests that it might be a sign, telling him to "change style."
Some scenes successfully dissect the mounting tensions between them: he dominates a dinner party for her friends, hijacking the night to sing his latest composition then slouching off to bed, leaving her to clear up and mutinously swig red wine. Others — like a scene in which Tess has some kind of primal screaming meltdown in a car wash — feel forced and emotionally hollow. The question, by the final act, is not so much why are they breaking up, but why were they together in the first place? And why are they prolonging the agony, for us, as well as for them?
Production Company: Stave Hill Films, Agua Viva Pictures
Contact: Stave Hill Films, info@alexandermilobischof.com
Producer: Renata Gheller
Cinematographer: Ariel Artur
Editor: Roberta Bononi
Production design: Frances von Fleming
Music: Jo Dudderidge
Main cast: Ruth Kearney, Dylan Edwards, Isabella Brazier-Jones, Keith Hill, Pepa Duarte, Christopher Foran, Molly Gromadzki, Constantin Symsiris, Benjamin Chandler, Jonathan Murphy