Jason Reitman directs Charlize Theron as a harried mother of three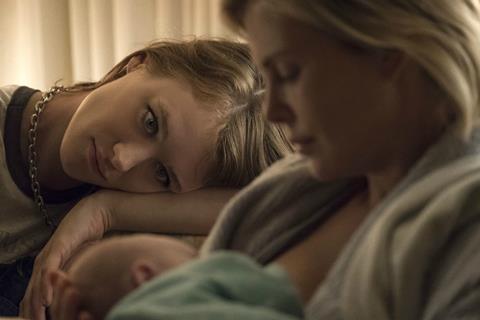 Dir. Jason Reitman. USA. 2018. 94mins
In Tully, a mysterious young nanny lessens the burden of motherhood for an overwrought housewife. In what begins as a bitter household comedy, their bond sees postpartum misery take a graceful turn.
Theron will put to rest any doubts about her feel for comedy; the darker the better.
Charlize Theron will be the initial draw for audiences, and her face on the poster could launch Tully into a serious ride internationally following its Sundance play in the surprise screening slot inhabited last year by the Oscar-nominated Get Out. This is director Jason Reitman's third collaboration with screenwriter Diablo Cody, following Juno (2007) and Young Adult (2011), and fans of their work should revel in this journey into family life on the far side of Juno; if that film was the story of a teen pregnancy without marriage, Tully is marriage with just enough sex to fall pregnant. Parents of young children — the film's most obvious demographic — are perhaps less likely to see the film in cinemas, however, so VOD prospects could be strong.
Tully opens with Marlo (Theron) nine months pregnant and begging to unload. Of her two other children one, Jonah (Asher Miles Fallica), has a challenging case of what seems to be Asperger's Syndrome, and Marlo's husband Drew (Ron Wilkinson) shirks child care to nurse a video game addiction. To top it all off, Jonah gets tossed out of a prestigious private school for being "quirky".
After she gives birth to her daughter, Mia, Marlo rejects an offer from her rich brother (Mark Duplass) to pay for a night nanny who would care for the baby and help regularise her sleep. Everyone is doing it, she's told. She relents after Mia cries almost as much as she poops. To say that Theron isn't afraid to get her hands dirty in this domestic hell is an understatement. "I feel like an abandoned trash barge," she laments, as mess and clutter accumulates, driving the point home.
The comedy pivots with the arrival of Tully (Mackenzie Davis, Blade Runner 2049), a free spirit of 26 years-old with a bare midriff and a carefree ease. Within hours, Mia sleeps, as does Marlo. Marlo and Tully become close; a predictable outcome, but one reached through some deft turns by Reitman and Cody. That said, Cody never lets plausibility get in the way of the psychic search that Tully becomes. Diaper-pail realism is jettisoned for talk of fulfillment, and the dialogue loses much of its earlier bite.
Theron will put to rest any doubts about her feel for comedy; the darker the better. In Young Adult, she captured the difficulty of early middle age minus the laughs. Here she has tried to transform herself by adding weight for the role, yet her face has the same classic beauty, giving her harried housewife the look of a monumental antique sculpture.
As Tully, Mackenzie Davis is radiant. She has a confidence that's seductive (as power can be, even in a household) — yet her new-age free-from-attachments character who embodies everything that Marlo left behind is one-note salvation. As Margo's brother and sister-in-law, Mark Duplass and Elaine Tan are as true to their social status as anyone whom you might meet at a wine-tasting.
Cody's script for Juno had a charm and a lightness about standing up to calamities that were never supposed to be there, like an unplanned teenage pregnancy. In Tully, money, or the lack of it, is at the root of Marlo's stress. Reitman and Cody don't let you forget that having a good marriage or raising children is often about having the resources to pay someone to help. A study of the compromises and frustrations of family life, charm doesn't figure in a world that requires patience and stoicism.
Production companies: Bron Studios, Right Of Way Films, Denver and Delilah Productions, Creative Wealth Media Finance
International sales: Sierra/Affinity sales@sierra-affinity.com
Producers: Mason Novick, Diablo Cody, Charlize Theron, Beth Kono, A.J. Dix, Helen Estabrook, Jason Reitman, Aaron L. Gilbert
Executive producers: Jason Blumenfeld, Jason Cloth, David Gendron, Ali Jazayeri, Ron McLeod, Andrew Pollack, Paul Tennyson, Stan Thomas, Dale Wells
Screenwriter: Diablo Cody
Cinematography: Eric Steelberg
Production design: Anastasia Masaro
Editor: Stefan Grube
Music: Rob Simonsen
Main cast: Charlize Theron, Mackenzie Davis, Mark Duplass, Ron Livingston