A mother and daughter undergo bizarre family therapy in a woodland retreat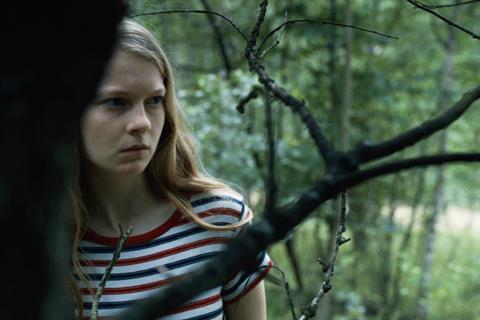 Dir: Constanze Knoche. Germany-Poland. 2017. 90mins.
The typical markings of a damsel in distress melodrama are concealed beneath a poker-faced formality in Under The Family Tree. Director Constanze Knoche largely eschews guilty pleasure genre thrills, creating an icily intriguing mixture of coming of age drama and psychological chiller. Following its international premiere at Busan, it should attract the more intellectual end of the horror crowd, even if there is less here than first meets the eye.
Performances are convincing throughout and the execution is elegantly enigmatic
The initial setup could be straight out of Agatha Christie, as television actress Meret (Claudia Geisler-Bading) and her teenage daughter Isabell (Stephanie Amarell) head deep into the woods around the Sudeten mountains. They will be cut off from the world in a house of strangers with virtually no phone reception. Sweeping aerial shots of the landscape underline its rugged beauty, and just how isolated they are.
Sulky, cynical Isabell looks as if she would rather be anywhere else as they embark on a series of group therapy sessions led by Einar (Godehard Giese) and his wife Julie (Karin Hanczewski). Both are experts in 'systemic family constellation' where individuals use other members of the house as surrogates for the people and issues that lie at the heart of their problems
At first, Under The Family Tree concentrates on the strained mother/daughter relationship, but Knoche and fellow screenwriter Leis Bagdach gradually widen the focus. We don't quite know what to make of Einar, who might be some kind of charlatan. Giese's sly performance is nicely balanced between the avuncular and the creepy, his secret smiles and superior manner suggesting that he is someone not to be trusted.
There is also a fairy tale element, with sightings of a wolf who prowls the woods and attacks in the night. More troubling are tales of Einar's family history that speak of rape and sacrifice, nudging us to question whether Einar might see his destiny more as a cult leader than a smug therapist. He frequently announces that "in all evil lies something good".
As Isabell's suspicions multiply, Amarell is good at conveying the quick temper and sense of resentment that are always just below the surface of her character. We are still left to question whether these are the imaginings of an emotional, over active adolescent imagination. Even as thunder rumbles in the mountains, and one of the party is savagely killed, there are plausible explanations for what is happening.
Under The Family Tree proves overly ambitious in trying to shoehorn an abundance of plot strands into its trim running time, including Isabell's blossoming relationship with young sociology student Tereza (Emma Drogunova). Knoche doesn't entirely pull everything together for a big finish, but performances are convincing throughout and the execution is elegantly enigmatic.
Production companies: Neufilm, ZDF, Das Kleine Fernsehspiel
International sales: Neufilm lbagdach@neufilm.com
Producers: Leis Bagdach, Constanze Knoche, Holm Taddiken
Screenplay: Leis Bagdach, Constanze Knoche
Cinematography: Andreas Bergmann
Editor: Kai Minierski
Production design: Katarrzyna Alska
Main cast: Stephanie Amarell, Godehard Giese, Karin Hanczewski