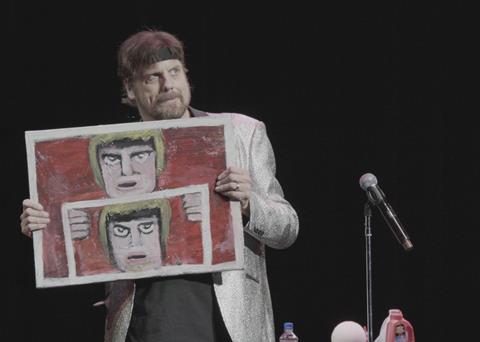 Dir. Ben Berman. US/UK 2019. 91 mins.
Over-archingly, transparently meta, self-knowing to a fault, and completely unreliable: terms that describe both the entertainer known as The Amazing Johnathan and this documentary about him. Or is it about him? This film has been blatantly constructed by its maker, while all the time taking a shrewd look at what has become of the business of documentary film-making which does exactly the same thing, but with less transparency. At times, Untitled Amazing Johnathan is laugh-out-loud funny in a way that's unexpected for a documentary about a deceitful, dying meth-addict magician on his final fumbling tour.
Isn't it all about how you frame it?
At least it has an honest start. "Based on available facts," says the title card, which is true. Viewers then settle in for what seems like a pretty interesting, SVOD-style documentary about a "the Freddie Kreuger of magicians" who was diagnosed with terminal heart disease in 2014 but has thus-far failed to die. Bored, he wants to do a series of farewell shows in what seems like an ill-advised comeback. Talking heads such as "Weird Al" Jancovic (sweet) and Carrot Top (strange) pop up to give their commentary on the magic scene back in the day, there's a visit to Johnathan's LA McMansion contrasted with modest beginnings in Detroit. So far, so average. Presumably the tour will go badly - if his wig is anything to go by - and Johnathan will die on stage, like Harry Cooper. Or recover, like the subject of Julien Temple's doc The Ecstasy of Wilko Johnson.
But then, the screws begin to turn: when they finish what's left is a strangely-compelling, unpredictable and manipulative piece of work which should travel extensively after its Sundance premiere.
To give too much away would be a greater betrayal than Johnathan's, when he finally tells Ben that he's not the only documentary film-maker to be making this story. Not by a long way. But first-act revelations also include the fact that Johnathon was an insatiable cocaine addict who has never given up; that the "speed" he smokes is actually crystal meth; and that he's far , far trickier than his rather outdated magic. Ben hits a series of dead walls and, unexpectedly, winds up asking his own family, "Weird Al", and Johnathan's strange bunch of friends for advice on how to proceed.
The documentary judders around like a rabbit in a hat. Is Johnathan, the tragic cancer patient, actually a bad guy? Soon, with Ben, we wonder why are we here? What is this documentary? Who is this clearly very inexperienced but tenaciously ambitious director, very happy to turn the camera on himself? (He is counselled to keep going with the shoot, to "defer your failure by another year.") By the time a rival documentarian is revealed to be 'Mad Chad', whose daytime job is juggling chainsaws, you realise that pretty much anything could happen in The Amazing Johnathon. Except, perhaps, the truth.
This film is all about narrative construct/content. There's nothing here visually or technically that would elevate it and a lot of the footage is flat-out cheap wobbly camcorder, some of it second-hand. Many viewers will suspect that some of it has been conducted retrospectively, as selected interviews are clearly more funded than others. But, as the documentary points out, it's all a story. It could have been, should have been, is, a sad tale of addiction and self-delusion and Johnathon's physical condition is grim. But, and this is Ben Sherman's main point, isn't it all about how you frame it? Is there a happy ending in there somewhere? If there is, this tenacious, obsessive documentary-maker who looks guile-less but is anything but, will be the one to salvage it from the wreckage.
Production companies: Cold Iron Pictures, Anonymous Content, Horse Horse Horse Production
Sales: Submarine info@submarine.com; Amy Beecroft, Verve abeecroft@vervetla.com
Producers: Miranda Bailey, Ben Berman, Russell Groves, Amanda Marshall, Jacob Perlin
Cinematography: Dan Adlerstein, Ben Berman
Editors: Scott Evans, Ben Berman
Featuring: Johnathan Szeles