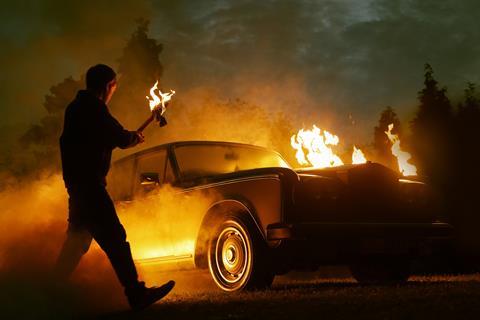 Dir: Joe Martin. UK, 2017. 83 mins
British short film and documentary maker Joe Martin (Keep Quiet) makes his feature debut with this timely - if rampantly unsubtle - drama, which takes the idea of class warfare to its most savage extremes when a disillusioned young social activist infiltrates the home of a wealthy banker.
Looking and sounding disarmingly like his father Tim, Joe Roth imbues his character with an edgy vim and vigour
The appeal and name recognition of star Jack Roth - son of Tim - should help secure Us and Them modest distribution on home turf following its South by Southwest premiere, but its fiercely British identity may well limit international appeal, although global political unrest, and the resulting interest in socially conscious works, could see its message spread on specialist and VOD platforms.
As the film opens, well-to-do Philippa (Sophie Colquhoun) is bringing her fiance to her country pile family home to meet her banker dad Conrad (Tim Bentinck) and mum Margaret (Carolyn Backhouse). The culture clash is immediately obvious, and uncomfortable. 'What have you come as?' quips Conrad to the lad, whose downbeat jeans and trainer combo sticks out like a sore thumb in the opulent surroundings. A tense lunch soon descends into bitter argument, as Conrad decrees the unemployed boy unfit to marry his beloved daughter.
If this exchange feels awkward and surreal - snap judgements and personal barbs rapidly descend into outright violence - that's because nothing here is what it seems. It transpires, through one of several well-used flashbacks, that the boy now tussling with Conrad on the marble floor is not, in fact, Philippa's betrothed, but opportunistic chancer and self-proclaimed activist Danny (Jack Roth).
Along with his two ski-mask wearing friends, Tommy (Andrew Tiernan) and Sean (Daniel Kendrick), Danny has cooked up a plan to bluff his way into Conrad's home, terrorise his family and film the whole thing as a social media stunt. "Our voices are ignored by the political and economic elite," says Danny to camera. "We seek to expose the wealthy to the same threats we experience in order for them to really change." But while Danny simply means to frighten Conrad into rethinking his priorities, things go rapidly downhill when Tommy deviates from the plan in order to get his hands on Conrad's life-changingly expensive watch collection.
As an attempt to plug into the redtop rage being felt by the UK's increasingly disaffected working class, writer/director Martin's film is the latest of several similar works by young filmmakers (Rachel Moriarty and Peter Murphy's Traders and Jane Linfoot's The Incident). Like the others, this story of the unorthodox actions of desperate people lacks nuance, its broad strokes imagining of the class divide serving its simple premise.
As such, Conrad is a braying, bigoted, shotgun-toting snob and Danny is a boozing, smoking geezer hero. (The women of the piece being nothing more than set dressing.) There's a sense that this caricature is intentional - particularly in a scene in which each character indulges in an imagined offensive diatribe against the other - but, nevertheless, this blunt-edged approach rather dilutes the impact.
What is more interesting is the way in which Martin has constructed his film. On screen title cards ('What Phillipa Knows', 'Confidence Trick, 'Trickle Down') and flashbacks are effective in helping the story unfold, with mid- and final-reel revelations giving dramatic meat to this otherwise overwhelmingly polemic narrative. Touches of comedy, particularly surrounding Danny's hapless partners in crime and offhand references to Citizen Smith, also help to crowbar the story off the soapbox.
Technical achievements are strong. Stefan Mitchell's intimate cinematography and Vanesa Lorena Tate's visceral sound design underscore the psychological schisms being explored, even if they are - like the punk/protest song choices and references to the testing of antidepressants on hapless rats - occasionally too on-the-nose.
Perhaps the biggest draw of the film, however, is the central performance of Joe Roth. Looking and sounding disarmingly like father Tim, Roth imbues Danny with an edgy vim and vigour - reminiscent of his father's early performances for Quentin Tarantino - and palpable vulnerability which draws sympathy for his righteous anger, however misjudged it may be.
While Us and Them may be simplistic and outlandish in approach, there's no arguing with the rampant injustice onto which it shines such a harsh light."It's called class war for a reason," notes Danny. "There has to be victims on both sides."
Production company: Into The Woods
International sales: Parkland Pictures info@parklandpictures.com
Producer: Danielle Clark
Executive Producers: Jeremy Sokel, Bob Palmer, David Osborn Cook, Kirsty Bell
Cinematography: Stefan Mitchell
Editor: Joe Martin
Music: Vanesa Lorena Tate
Main Cast: Jack Roth, Sophie Colquhoun, Tim Bentinck, Carolyn Backhouse, Andrew Tiernan, Daniel Kendrick