Eugenia Chaverri stars as a 72-year-old woman making the most of life in Costa Rica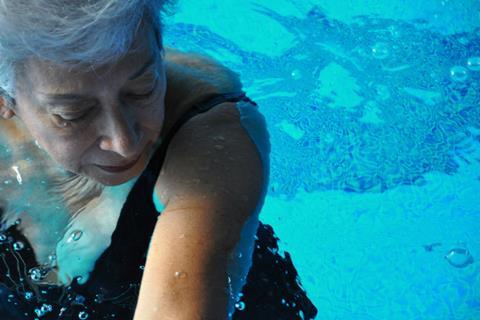 Dir/Scr: Hilda Hidalgo Xirinachs. Costa Rica-Mexico. 2017. 85mins.
As modest and endearing as its central character, Violeta At Last marks a welcome return for director Hilda Hidalgo Xirinachs. Her first feature since Love And Other Demons (2009) tells of a divorced, elderly woman determined to face the future on her terms.
Eugenia Chaverri is a delight in a rare leading film role, capturing a sense of Violeta's indomitable spirit
Festival interest should be brisk and there is theatrical potential in a sweet little film, especially if it can connect with an older demographic who will readily identify with Violeta's tribulations and small victories.
Violeta (Eugenia Chaverri) is 72 and living alone after divorcing her husband of more than forty years. Chaverri invests her with the twinkle of someone still curious about life and filled with an appetite for what lies ahead. Surrounded by a loving family and friends, she lives in a family home that is a beautiful oasis of tranquility in the heart of San Jose, Costa Rica. Scenes display the long-established fruit trees and flower-strewn paths that are as vital a part of her family history as photo albums and cherished memories.
Violeta has plans to start renting rooms in the family home and is also learning to swim. When her swimming instructor Francisco (Gustavo Sánchez Parra) becomes her first tenant it seems like an ideal situation.
The progress and setbacks of Violeta's swimming lessons become an easy metaphor for her emotional state. There are times when she glides along with contented ease and others when she struggles to keep her head above water. A catastrophic change in her financial situation is marked by a scene in which she suffers from cramp and has to be helped from the pool.
Xirinachs displays a light, sensitive touch throughout. Conversations are elegantly framed in a way that allows us to gently eavesdrop on what is being said. Violet's fondness for her long dead parents allows her to briefly glimpse them in her garden as symbols of comfort and reassurance but this never becomes overly sentimental. Characters have a generosity of spirit and Violeta is never seen to be self-pitying or defeated. She remains a resourceful woman even in the face of well-meaning family members and financial institutions who think they know what lies in her best interests.
Chaverri is a delight in a rare leading film role, capturing a sense of Violeta's indomitable spirit and managing to intimate her emotional state through her physical bearing. She seems to visibly age and appear frailer when Violeta's future turns less certain. "I'll soon be using a stick to walk," she laments, in a rare concession to her advancing years.
Production companies: Cacerola Films, La Tiorba
International sales: Habanero acalvino@habanerofilmsales.com
Producer: Laura Imperiale
Exec prods: Laura Imperiale, Hilda Hidalgo Xirinachs
Cinematography: Nicolas Wong Diaz
Editor: Ariel Escalante
Prod des: Olga Madgrigal
Music: Camilla Uboldi, Matias Barberis
Main Cast: Eugenia Chaverri, Gustavo Sánchez Parra, Erika Rojos