Ed Lily sets his directorial debut in Southend's battle rap scene, drawing strong performances from his young cast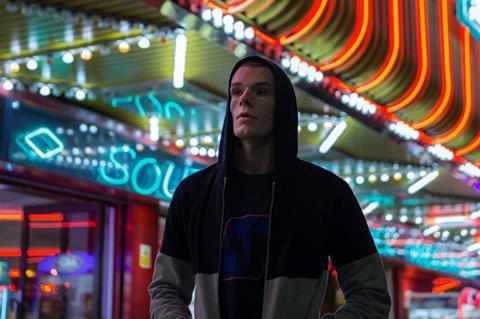 Dir. Ed Lilly. UK. 2018. 100 mins.
It's "no bars held", as one character puts it, in British rap drama Vs.­ ­- and if you want to hear ripe personal invective, this Southend-set drama would bring blushes to a Friars Club roast. This debut from director Ed Lilly – a Screen Star of Tomorrow 2017, as is his lead Connor Swindells – can't lay much claim to originality, essentially resembling Eminem vehicle 8 Mile transplanted to Southend. It's also a traditional coming-of-age drama, crossed with the old showbiz story of an outsider battling his demons to become the toast of a tight-knit youth scene. But Lilly, co-writing with Daniel Hayes, embraces the specificity of an English working-class seaside milieu, stacks the drama with ebullient UK rap and grime talent, and puts Swindells's vital performance stage centre to produce a compelling drama that transcends its generic roots, boding well for its UK release following a London Film Festival debut.
Connor Swindells shows the same kind of tense, bullish energy that put Jack O'Connell on the map
Swindells – showing the same kind of tense, bullish energy that put Jack O'Connell on the map – plays Adam, a young white male who's spent most of his life in foster care, and now, in his late teens, can barely curb his rage and resentment. His case worker Terry (Nicholas Pinnock) finds him a last-chance billet in Adam's home town of Southend, with retired foster mother Fiona (Ruth Sheen).
At a loose end and hoping to score dope, Adam tries a bit of aggressive flirtation on amusement arcade cashier Makayla (Fola Evans-Akingbola), who gives as good as she gets in a meet-cute exchange of elaborate insults that's a little too polished to be plausible, the film's only really weak moment. She's the organiser of a local 'battle' scene in which rappers square off against each other in exchanges of pitiless mutual demolition, and where the violence is strictly verbal. At least, it is until Adam – a natural who soon rebrands himself as Adversary – meets reigning champ 'Slaughter' (real-life grime artist Adam Rooney, aka 'Shotty Horroh'), a hard man who happens to be Makayla's ex.
Sparks, and fists, are bound to fly before long – but meanwhile, Adversary is the coming thing on the battle scene. While Makayla becomes his mentor and close friend, he isn't getting anywhere with her romantically, leading him to take an interest in clubber Katie (Ellie James), who also happens to be the single mother of Slaughter's child. And constantly weighing on Adam's mind is local hairdresser Lisa (Emily Taafe), the biological mother who gave him up for fostering at the age of five.
There's a nice playoff between the kind of swaggering confrontation that Adam carries off with ease in front of an audience and the agonising meeting he eventually has to face with Lisa, whose own troubled background he's unable to understand. Things come to a head when Adam, arrogance and anger swelling to a kind of verbal bloodlust, crosses a line when taking on a female opponent, Miss Quotes (actor and rapper Paige Meade, aka Paigey Cakey). Things lead to a final showdown with Slaughter on the pier: the location, and the fact that the whole cast is gathered round to witness the scene, makes it apparent that beneath the thug-life bravado and the realist harshness, Vs. is also a British youth movie in the lineage that goes right back to Summer Holiday.
Mainly, though, like 8 Mile, Vs. is really a boxing drama in disguise, about knowing when to throw punches and when to hold back. The evocation of the battles world – sometimes with backing tracks ('on beat'), sometimes a cappella - bristles with energy and authenticity. But there's an interesting tension between the idea that this art form is Adam's path to redemption, and the fact that the rhetoric is often shockingly vicious – routinely homophobic and misogynistic and often directed at people's mothers (interestingly, the one thing that no opponent ever accuses Adam of is cultural appropriation as a white rapper).
While the film never quite transcends the generic familiarity of a working-class teenage-agony drama, the acting bolsters it nicely, with Sheen doing a dependable tough love number and Pinnock exuding compassionate calm. Rappers Meade and the impressively menacing Rooney mix brittle humour and sometimes dazzling verbal flourish, and a small but attention-grabbing role for Ellie James (recently in TV series Strike) has a distinctive rough-edged elegance that marks her as face to watch. On the visual front, DoP Annika Summerson makes Southend not exactly glamorous, but captures a vivid mix of overcast daylight, neon and grime - of both varieties.
Production companies: BBC Films, Lorton Entertainment, Silvertown Films, Wildgaze Films
International sales: Independent Film Sales, mail@independentfilmcompany.com
Producer: Bennett McGhee
Screenplay: Daniel Hayes, Ed Lilly
Cinematography: Annika Summerson
Editor: Immanuel von Bennigsen
Production design: Anna Pritchard
Music: Pedram Mehrshahi
Main cast: Connor Swindells, Fola Evans-Akingbola, Ruth Sheen, Nicholas Pinnock, Emily Taafe, Adam Rooney (Shotty Horroh)