Dir. Petr Vaclav. Czech Republic, France. 2016. 104 mins.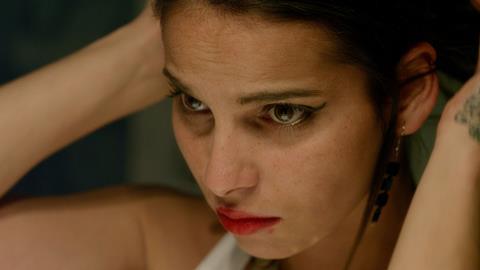 Petr Vaclav's state-of-the-Czech nation feature paints a bleak picture of lives lived in quiet desperation; numbed by alcohol and sharpened by simmering hate. The relentlessly downbeat subject matter is, however, delivered with several bold directorial flourishes and the occasional flash of surreal gallows humour.
The film plays out to the continual, low-level accompaniment of barking dogs – a subliminal warning that echoes the territorial posturing of the men in it
Vaclav's reputation as one of the foremost voices in Czech cinema should ensure that this ambitious but slightly scattershot film should receive interest on the festival circuit. The fact that it won the Tagesspiegel Readers' Jury Award following its premiere at the Berlin Film Festival suggests that, in some territories at least, it could generate the word of mouth support that would be crucial for a successful theatrical release.
Karel Roden, typecast by Hollywood as the morally suspect Eastern European villain in films such as The Bourne Supremacy and Rocknrolla, takes on a no less unsympathetic but rather more complex role here. He plays an unemployed hypochondriac given to fits of shrieking rage and long sullen silences who passes his days by browbeating his wife and two sons, and – in one particularly unsettling scene – examining his own faeces. This character who, like all but one, is not named in the film, is befriended by his neighbour, a paranoid former prison guard whose prefered pastimes include racism and seething with barely concealed rage.
Meanwhile, the hypochondriac's wife (Lenka Vlasáková) is repelled by her husband's erratic neediness and worn down by the drudgery of providing for her family through her job in a convenience store. She convinces herself that she is in love with a man who visits the shop to bulk-buy cigarettes. He is the bouncer at a nightclub which doubles as a brothel, and is himself caught up in an equally unrequited passion for stripper and single mother Sylva, (Klaudia Dudová, who starred in Vaclav's multi-award-winning drama about a young Roma couple, The Way Out). She soaks up the pain of her demeaning job and a partner in prison with numerous bottles of liquor bought from the same store where her would-be suitor buys his cigarettes.
Rejected by the bouncer, the wife tries to earn his respect by moonlighting as a prostitute at the bar where he works. It's one of the more extreme narrative devices in a story which hurtles towards inevitable violence.
Misery is inherited, and the sons of the hypochondriac and his hate-filled neighbour strike up a friendship which is based around a plot to take revenge on their parents. An early shot of one of the boys appreciatively fondling a gun gives some indication of how well that plan works out in the end.
The cinematography switches between black and white and colour several times during the picture, at seemingly arbitrary moments. Vaclav no doubt had good reasons for this, but they are not immediately clear. More effective is the sound design. The film plays out to the continual, low-level accompaniment of barking dogs – a subliminal warning that echoes the territorial posturing of the men in it.
Production company: Mimesis Film, Cinéma Defacto, Czech Television Produzentin
International sales: WIDE Management infos@widemanagement.com
Producers: Jan Macola, Tom Dercourt, Čestmír Kopecký, Sophie Erbs
Screenplay: Petr Vaclav
Cinematography: Štěpán Kučera
Editor: Florent Mangeot
Production design: Milan Plešinger
Main cast: Karel Roden, Lenka Vlasáková, Miroslav Hanuš, Zdeněk Godla, Klaudia Dudova