Intense debut set in an Irish border town stars Nora-Jane Noone and the late Nika McGuigan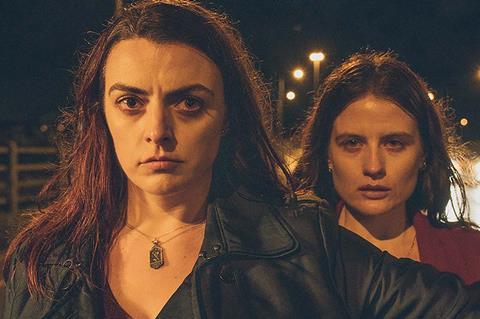 Dir/scr Cathy Brady. Ireland/UK. 2020. 85 mins
Born less than a year apart, sisters Lauren (Nora-Jane Noone) and Kelly (the late Nika McGuigan) were inseparable as children. Then family tragedy carved itself into their lives and they drifted apart, with Kelly vanishing altogether for over a year. Now she's back, a little frayed around the edges perhaps, but the bond between the sisters is rebuilt, as instinctive and intense as ever. It becomes clear, though, that neither can move on until they face the truth about the trauma that was passed between generations of their family, etched into their very DNA. This forceful first feature from Cathy Brady frames a raw domestic drama against the backdrop of an Irish border town community which itself bears the scars of The Troubles.
Brady is certainly a talent to watch
It's a deceptively complex and layered work, with its themes of unity versus division, and the gradual blurring of the border where one sister stops and the other begins. Brady is certainly a talent to watch, and the film, powered by incendiary turns from Noone and McGuigan, should find further interest on the festival circuit, whatever form that might take. It's a film which will resonate particularly with Irish and British audiences, but the idea of the ongoing generational friction which builds and never fully dissipates at the point where two countries rub up against each other is acutely relevant the world over
There's a semi-feral wildness in Kelly which makes her an awkward fit in the insular little town where she and her sister grew up. With mud on her shoes, and dirt ingrained under her nails, she leaves her mark the moment she sets foot back in the subdued home that Lauren shares with her husband (Martin McCann). The whispers of the gossips, for whom Kelly's return is the biggest news since the mysterious death of the girls' mother years before, are of the opinion that Kelly is in need of psychiatric help. But Lauren, whose passivity peels away the longer she spends with Kelly, fiercely defends her sister's sanity – even as she discovers Kelly, manic at 5am, carving out a vegetable plot in the garden where a lawn should have been.
Brady's direction is unshowy, but she has a keen eye and a striking sense of colour. A red coat which belonged to the girl's mother takes on a loaded significance. Kelly insists on wearing it; for Lauren it feels as though a ghost is shadowing her, opening the door to memories which she had shelved as a child. But it's Brady's work with the two lead actors which distinguishes the picture. Noone and McGuigan match each other for lacerating ferocity. Lauren and Kelly are drawn together, their psyches intertwining. There's a terrific scene in which they dance, a kind of stamping war whoop on the damp carpet of a morose pub. There's a moment when they seem like reflections, separated by a mirror and nothing else. "Are you twins?", a drinker asks. And they flash teeth and hair and anger at him, knowing that he, like so much else in their town, is tied up in the pain of their past.
Production Companies: Tempesta Film UK, Cowboy Films, Samson Films
International Sales: Film Constellation info@filmconstellation.com
Producers: Carlo Cresto-Dina, Charles Steel, David Collins
Editing: Matteo Bini
Cinematography: Crystel Fournier
Production design: John Leslie
Music: Gareth Averill, Matthew James Kelly
Main cast: Nika McGuigan, Nora-Jane Noone, Martin McCann, Kate Dickie