A debut from Taiwan is a richly-textured portrait of a mysteriously missing girl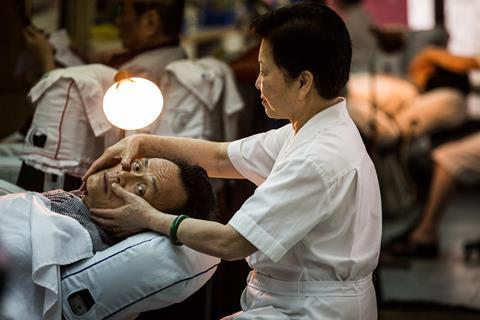 Dir/scr. Maren Hwang. Taiwan, 2018, 95 mins.
Xiao Mei is a dialogue-heavy film, staged as interview scenes with the missing titular character's friends, family and acquaintances as they try to find her and piece together her last movements. As its nine vignettes form a snapshot of a young woman who is lost both figuratively and literally, writer-director Maren Hwang's flair for framing and staging draws viewers in.
This is a feature that lets every frame add potent texture to its central story
How and why Xiao Mei (Jao Cincin) simply vanished are the questions that bind each conversation, her unhappy reality coming into sharp focus. Initially described as kind, quiet and shy, she was also unable to leave a past drug problem behind — though that's just one possible reason presented for her disappearance. As the sections are spliced together from subjective memories and observations, it becomes apparent that one person can leave different impressions on everyone around her; a far from novel message, but one that resonates all the same. And, regardless of who is doing the talking, no single recollection, or even all of them combined, can really ever provide the whole picture.
Rendered by first-time film-maker Maren Hwang in crisp, tellingly elaborate visuals, this is a feature that lets every frame add potent texture to its central story and is worthy of catching other festivals programmers' eyes after its Berlin premiere in Panorama. Hwang's film fares better in its look and mood than its admittedly slight story, however, and that could hamper its broader prospects. One can't help but wish that the same level of complexity was given to the film's overarching narrative as its visuals. Still, even when the bigger picture becomes predictable, the images are alive with detail, ensuring there's rampant intrigue in watching how it's all pieced together.
Grimy beige and grey tones surround Mei's landlord (Chen Yi-Wen) in her unglamorous home life in a filthy apartment; rich, deep red lines the alleyway where her half-brother (Na Dow) works in a restaurant; and there are splashes of colour in the clothing store where Mei worked for a year. Japanese DOP Nagao Nakashima also captures her delivery driver boyfriend (Liu Kuan-Ting) on the move as he rushes around on his scooter, and includes dash-cam car crash footage featuring her office manager (Laurence Chiu).
The missing girl's ex-boyfriend (Wu Chien-Ho), ex-boss (Yin Shin) and mother (Samantha Ko) all feature as well, occasionally prompted by questions from an unseen interviewer (voiced by The Great Buddha director Huang Hsin-Yao), while a psychic (Chang Shao-Huai) and a photographer (Wu Kang-Jen) also offer their assistance. As for Mei herself, she's intermittently glimpsed wandering through recreations intertwined with the interview footage, always remaining a ghost in her own story.
As a haunting portrait emerges, Hwang is further aided by a cast making the most of their allocated screen time, with each bringing emotional intricacy to their to-camera missives. Though the film's visuals remain its main focus, their performances are a vital factor in a contemplative, atmospheric effort that lets words flow freely but is never played as stagey.
Production company: Studio Romance
International sales: MandarinVision, contact@mandarinvision.com
Cinematography: Nagao Nakashima
Editors: Lai Hsiu-Hsiung, Man Chi-Ming
Production design: Liao Kuo-Hui
Music: Luming Lu
Cast: Chen Yi-Wen, Liu Kuan-Ting, Na Dow, Wu Chien-Ho, Yin Shin, Laurence Chiu, Chang Shao-Huai, Samantha Ko, Wu Kang-Jen, Jao Cincin, Huang Hsin-Yao