An academic grapples with his memory and the past in this emotive drama from Quebec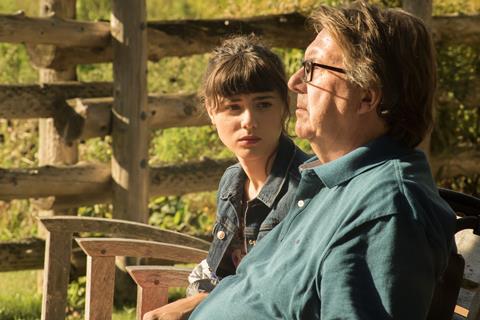 Dir. Eric Tessier. Canada. 2020. 108 mins.
Despite its hopeful title, Quebecois drama You Will Remember Me isn't a major contender for cinematic posterity, but it's a reasonably compelling experience while on the screen. And that's somehow fitting, as this quietly emotive musing on memory and its transience yields a philosophical moral along the lines of 'this too shall pass, so enjoy while you can.' Based on a 2013 play by François Archambault, who contributes to director Eric Tessier's French-language adaptation, the film centres on a bravura performance by Rémy Girard as an academic grandee facing dementia, with empathetic support by young up-and-comer Karelle Tremblay.
Solemn though the content might seem, there are dashes of sly humour
Showing online in the Sarajevo Film Festival, the film could resonate modestly in festival slots, especially with older audiences, although very specific references to Quebecois politics and culture may limit wider appeal.
Essentially a chamber drama opened up by flashbacks and other digressions, this sober piece marks a departure for TV regular Tessier, whose big-screen work spans assorted genres, including successful 2012 family hockey comedy The Pee-Wee 3D. Clearly a labour of love, You Will Remember Me generally carries its serious-mindedness lightly. The central figure is academic Edouard Beauchemin, played by Girard, best known outside Canada for work with Denys Arcand, notably The Barbarian Invasions.
Edouard is a historian and highly visible media intellectual who prides himself on a broad philosophical insight and encyclopedic memory, but is now developing dementia and severe short-term memory loss. His pomposity and patriarchal narcissism emerge only too clearly in the TV interview which opens the film - and provokes eye-rolling from long-suffering spouse Madeleine (France Castel), who decides it's time for a break, taking Edouard to stay with her daughter Isabelle (Julie Le Breton). Isabelle's well-meaning boyfriend Patrick (David Boutin) offers to take care of Edouard, but ends up passing the buck to his reluctant daughter Bérénice (Tremblay).
Much of the film's dramatic meat lies in the scenes between Edouard and college-age Bérénice, a canny but blasé child of the information era who has nothing but contempt for his pronouncements about how social media is causing the disintegration of culture. At first, things look set for a routine generation gap story, but the film reaches beyond that, reasonably elegantly if not without contrivance. When Edouard mistakes Bérénice for long-lost daughter Nathalie, she decides to play the part for him – a reckless move but one that eases the way for a cathartic resolution.
Solemn though the content might seem, there are dashes of sly humour, although they don't always allay the sense that Tessier is playing the poignant ironies a touch too emphatically. Flashbacks to the early days of the Beauchemin's relationship – set to a mid-60s number by Quebecois singer Marc Gélinas – may be knowingly kitsch, but they're still kitsch and a little irksome. For the most part, the film shows its theatrical origins, with the essential action located in either the Beauchemins' house (dark, book-lined, claustrophobic) or Isabelle's home (spacious, white, glossily antiseptic), the contrast neatly carried off by production designer Danielle Labrie and DoP Pierre Gill.
Where the film becomes most theatrical, and in some ways most compelling, is in giving full rein to Edouard's cogitations, and his debates with Bérénice. There's quite a richness of thought in the script here, and in the thematic parallels between Edouard's failing memory, the state of culture and the issue of climate change, which Isabelle covers as a TV reporter. But the quality of the script often shows up the essentially functional visual style, however confidently executed.
Where the film really connects is in its acting, notably in the interplay between Tremblay's thoughtful, reserved performance and Girard's thorny but winning characterisation, which starts out in familiar cantankerous 'sacred monster' mode, but gradually unfolds its nuances. Support is strong, notably a nicely prickly Castel - although Canadian viewers will be best qualified to judge the merit of the featured cameo by actor/impersonator Pierre Verville as one-time Quebecois premier René Lévesque.
Production companies: Christal Films Productions, Les Films Opale
International sales: WaZabi Films, sales@wazabifilms.com
Producer: Christian Larouche
Screenplay: Eric Tessier, François Archambault, adapted from the play by François Archambault
Cinematography: Pierre Gill
Editor: Jean-François Bergeron
Production design: Danielle Labrie
Music: Martin Léon
Main cast: Rémy Girard, France Castel, Julie Le Breton, Karelle Tremblay