A 15-year-old boy explores his homosexuality with a fellow skater in Marco Berger's sensitive drama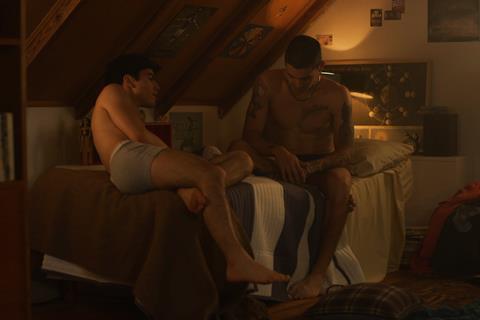 Dir/scr: Marco Berger. Argentina. 2020. 101mins
The latest film from Marco Berger, who won the Berlin Teddy award for Absent in 2011, is a muted, sometimes evasive, coming of age picture which negotiates the drama of its young protagonist's life with care and sympathy. Fifteen-year-old Ezequiel (Juan Pablo Cestaro) has known that he prefers boys to girls since he was 12. But his gayness is still something he is learning to navigate, something to which there remains an element of shame attached. With his parents away for a month, Ezequiel sets out to explore his sexuality. But his fumbled seduction attempts repeatedly fizzle into awkwardness and apologies. Then Ezequiel meets Mono (Lautaro Rodríguez), a tattooed skater kid who seems supremely comfortable in his own skin, and Ezequiel falls hard for the insouciant older boy. But Mono is not all he seems, and Ezequiel soon finds himself faced with an impossible quandary.
In the central role, Cestaro is one of the picture's main assets
The combination of queer themes and an element of genre filmmaking (in its understated way, the picture is seeded with thriller tropes) should ensure that the film attracts interest in the LGBTQ festival circuit. Theatrical potential would likely be limited – with its low key approach and adolescent inarticulacy, the film leaves a lot unsaid.
In the central role, Cestaro is one of the picture's main assets. He combines a childlike eagerness and openness with a prowling awareness of his own sexual power. He slides glances under his eyelashes at other boys when he thinks that they won't notice, then is tongue tied with embarrassment when they do. He is still learning the language of flirtation. But even he can't mistake the meaning of the appraising gaze that Mono shoots him from across the skate park.
Berger's camera is respectful of the youth of the characters; the connection between Ezequiel and Mono plays out in loaded glances and stilted confessional discussions, cutting away at the bedroom door. Less subtle is a score which stridently signposts the moments at which Ezequiel is threatened. It is already clear, for example, from Mono's evasiveness and distance, that all is not quite right with the 'cousin' Mono introduces and the empty house happens to be available for their use. The throbbing alarm call of the score seems heavy handed and surplus to requirements.
Berger is more daring in the structure of the picture, which abruptly shifts focus from Ezequiel to another, younger boy, Juan Ignacio (Patricio Rodríguez), at a pivotal moment of the story. It's a bold decision which initially seems to disrupt the flow of the film. But in fact, the opportunity to spend time in the company of the other boy and to learn a little about his life gives considerable weight to the film's final act and to the dilemma in which Ezequiel finds himself.
Also worth noting is the gently empathetic performance from Luciano Suardi as Ezequiel's father. He struggles to find a common ground and language with the child he can see is troubled but can't quite reach. And at the moment when Ezequiel finally reaches out to his father, it's as if the whole film breathes a sigh of relief.
Production companies: SOMBRACINE SRL
International Sales: Wildstar sales
Producer: Alberto Masliah
Editing: Marco Berger
Cinematography: Mariano De Rosa
Production Design: Natalia Krieger
Music: Pedro Irusta
Cast: Juan Pablo Cestaro, Juan Barberini, Lautaro Rodríguez, Patricio Rodríguez, Luciano Suardi