Dir: Gianfranco Rosi. Italy-France. 2013. 93mins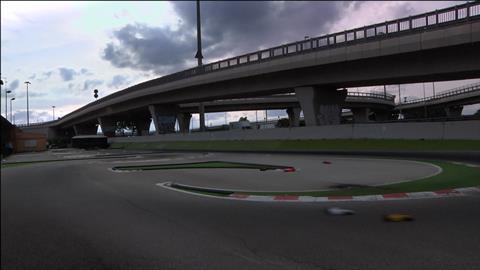 With only his third feature-length film, Italian-American director Gianfranco Rosi's status as one of the most interesting documentary makers on the current scene can no longer be doubted. Sacro Gra, which screened in competition at this year's Venice Film Festival, is his most compassionate and strangely satisfying work to date, an impressionistic mosaic of life lived on the margins of a large Italian city, assembled via the fly-on-the-wall observation of a handful of characters who live or work near Rome's motorway ring road, the Grande Raccordo Anulare, or GRA – here punningly presented as a 'Holy Gra'.
Rosi's film dispenses with narrative comment. Its method is simply to show and tell, weaving in the stories of five main characters with scenes of traffic on the GRA.
The result of a two-year shooting schedule and eight months in the editing room with top Italian snipper Jacopo Quadri, Sacro Gra airs the same fascination with outsider lives as Below Sea Level, his 2006 study of Slab City, a community of trailer-dwelling social outcasts in the Californian Desert. Sacro Gra's charms have much to do with the director's spot-on selection of a brace of engaging or kooky characters from what must have been dozens of potential candidates.
But they also derive from the way he juxtaposes them in a work that has a persuasive emotional rhythm, alternating moments of pathos, drama and gloom with a vein of sometimes quirky, sometimes laugh-out-loud humour that mostly makes it across the subtitle barrier.
Sure, there's none of the shock-value of Rosi's last film, El Sicario – Room 164, a feature length interview with a hooded Mexican drug-cartel hitman which picked up some limited theatrical engagements outside of the festival circuit. But Sacro Gra has the feelgood factor to make up for its lack of body blows, and might even be sniffed at by distributors who took note of the success a few years back of a very different film, Mid-August Lunch. There's a market for quirky, fresh portraits of Italy that take one to places that tourists never normally go.
Apart from a short opening caption that explains what the GRA is, and refers to it as Rome's 'Ring of Saturn' (a nod, perhaps, at author W.G. Sebald, whose book The Rings of Saturn is also a storyfied documentary that pans out along a geographical route), Rosi's film dispenses with narrative comment. Its method is simply to show and tell, weaving in the stories of five main characters with scenes of traffic on the GRA and a few shorter 'walk-on' roles – like a couple of Coyote-Ugly-style bartop dancing girls.
There's a salt-of-the earth but surprisingly well-schooled eel fisherman who lives on a houseboat in the shadow of a motorway viaduct. There's Roberto, a shaven-headed, loquacious ambulance paramedic who you wouldn't be surprised to see among the Roma 'ultras' on match day – but he turns out to be a sensitive, rather lonely man, who pays dutiful visits to an elderly mother who is no longer all there.
There's a real or self-styled prince – we suspect the latter – who rents out his kitsch motorway-side castle for film shoots, advertising, photo-romance shoots (one of which supplies one of the film's more hilarious scenes), conferences, bed and breakfast – you name it.
Playing the prophet of doom to this impresario of tacky dreams is a botanist, shown at work among his palm trees within earshot of the motorway, obsessed to the point almost of fury with his personal battle against the palm weevil, a parasitic beetle that is devastating the trees in his reserve. Finally, there's a curious elderly father and grown-up daughter couple, whose conversations – mostly, to tell the truth, paternal monologues – are filmed through the window of their apartment in a high-rise block of flats that seems to square oddly with this man of culture and refined manners.
You'll need to turn to the pressbook to discover that he's a Piedmontese aristocrat – fallen on hard times, we presume – but this lack of context does not feel frustrating as we're watching. In fact the conjectures the director encourages us to engage in are part of Sacro Gra's appeal. It helps, too, that this sharply shot film looks good on the big screen.
A Catholic open-air mass – complete with a sunburst through clouds that is interpreted by some of the gathered faithful as a sign from God – is shot on a setting that turns everything to white-out glare and dazzle; at other times, it's the unexpected beauty of these non-places that Rosi brings out, places that are not destinations but merely points of passage on a road that goes from here back to here, via somewhere else.
Production companies: Doclab, La Femme Endormie, Rai Cinema
International sales: Doc&Film International, www.docandfilm.com
Producer: Marco Visalberghi, from an idea by: Nicolo Bassetti
Cinematography: Gianfranco Rosi
Editor: Jacopo Quadri
Website: www.sacrogra.it