Dirs/scr: Nick Broomfield and Joan Churchill. UK. 2011. 90mins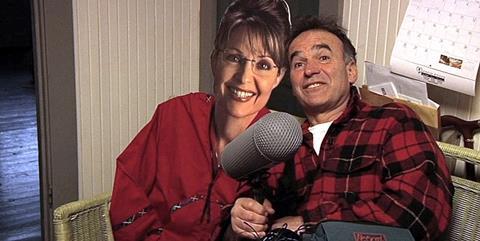 Not exactly a watershed entry in Nick Broomfield's nonfiction oeuvre, Sarah Palin - You Betcha! is more of a lark than a revealing expose. And for those expecting a hit job, Broomfield offers few devastating punches. Instead, this mildly amusing documentary assembles a 'greatest hits' of Palin gaffes and embarrassments, intercut with verite-style interviews with a small handful of people who have known the former Alaskan governor or worked with her.
You Betcha! is a slight diversion.
Politics junkies, Palin-haters and American liberals may check out the film when it's released theatrically in the US later this fall, but the film, destined for Channel Four broadcast in the UK, is likely to stay on small screens in other territories. Like Michael Moore's Roger & Me, or Broomfield's own Margaret Thatcher documentary Tracking Down Maggie, the film is structured around
Broomfield's misbegotten attempts to seek out and interview Palin. Broomfield confronts her at a few book signings and public speaking engagements, but, of course, the joke of the film is that he never really gets close to her (as well as a number of other prospective targets).
In one early bit, he considers walking across an iced-over lake to visit her house. In another joke (too staged, and less funny), he resorts to asking questions at an event with a bullhorn. He even goes to Alexandria, Egypt to interview a Palin childhood friend because few people in Wasilla will talk to him.
Certainly, there is some inherent humor in seeing an old Englishman in remote Alaska, stumbling around on the ice and wearing a black-and-red checkered hunting jacket and baseball cap. But the gag only goes so far.
The film's more substantive investigation into Palin is wanting of new material. While it's surprising that the British filmmakers get ample camera time with Palin's parents, Chuck and Sarah, many of the film's other interview subjects have axes to grind against Palin, which makes them far from reliable. The fact that Broomfield brings up stories from the National Inquirer suggests how little dirt he has on the former Vice Presidential candidate.
But he does have one strong argument: A chorus of voices, too many to be discounted, bring up Palin's "you're-with-us-or-against-us" attitude that lead to innumerable firings and feuds throughout her political career. In a phrase heard repeatedly throughout the film, Alaskan State Republican Senator Lyda Green says she wants to write a book about Palin called "Under the Bus" for the number of people that Palin has used and then thrown away. There's some strong supporting testimony in this regard from former Palin supporter John Bitney and Walt Monegan, a man who was fired over the so-called "Troopergate" scandal, and who legitimately seems to have been railroaded by Palin.
But ultimately, You Betcha! is a slight diversion, undermined by too many cheap shots, poor quality archival footage, and unsubstantiated connections.


Production company: Awakening Film
International sales: Content Media, www.contentmediacorp.com
Producer: Marc Hoeferlin
Cinematography: Joan Churchill
Editor: Michael Flores
Music: Jamie Muhoberac