Screen checks out the latest Secret Cinema production.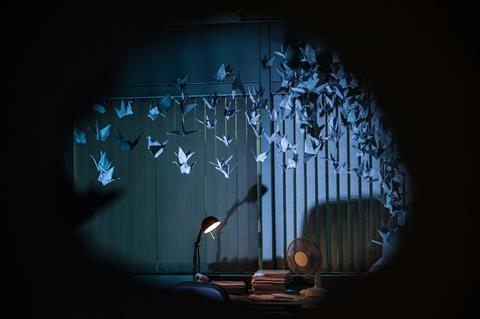 We've just been made unemployed and had all our worldly possessions taken away. Just another night at Secret Cinema…
The 20th production of the immersive cinematic event may have had a delayed start, but is in full swing now and yet again delivers a one-off experience - in parts thrilling, surreal, fun and always involving.
As with Prometheus before it, this production saw participants working for an organisation - in this case G.O.O.D. - with the night taking place at the company's headquarters, with viral videos building up the company in recent months [available to view on YouTube]
Having settled in to our new roles – or in Screen's case, chose our affordable (read, derelict) housing having been let go – we were left to explore the headquarters at our leisure.
Even by Secret Cinema standards, the set-up and attention to detail is impressive with this production's location ranking as one of their most ambitious to date: a 13-floor building with something to discover on almost every level.
Quite frankly, anyone going along who complains of boredom just isn't getting stuck in enough. Secret Cinema is, and always has been, about exploring for yourself and letting your inhibitions go when the consistently excellent actors interact with you.
A lot has been made of the film screening aspect of this production and we can safely confirm that the secret film in question is shown in full. More so than ever though, this production allows you to set your own agenda for the night.
For us, it was all about exploring the space but that doesn't mean that, true to form, the night didn't end on a spectacular note with an outstanding piece of staged theatre timed to the climax of the film. As with the rest of this production, it's a bold and fittingly ambitious end to another memorable, pulsating night of immersive cinema.
While a different, less visceral, experience than The Shawshank Redemption (the 19th production), Secret Cinema 20 still delivers everything it has become renowned for. There simply isn't anything else quite like it out there.
And now we're off on a honeymoon. Oh, didn't we say? Screen got married. Just another night at Secret Cinema.
The 20th production of Secret Cinema runs until June 9, every Thurs-Sun. Tickets are available here - http://www.secretcinema.org/tickets. The main drinks sponsor is Drambuie, who deliver some delectable cocktails on the night.
Photos - Laura Little, Hanson Leatherby, Al Overdrive