Dominic Cooper and Ludivine Sagnier on the red carpet for the premiere of The Devil's Double in London.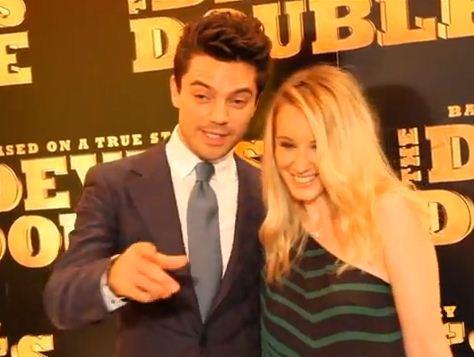 Dominic Cooper was joined by the real life "devil's double" Latif Yahia as well as his co star Ludivine Sagnier, writer Michael Thomas and some girls in gold bikinis at the UK premiere of The Devil's Double in London last night.
The British actor, who plays both Saddam Hussein's son Uday and his body-double Latif Yahia in Lee Tamahori's film, said he was "mesmerised by the story. To have the chance to play [Latif] and the opposing man, someone extraodinarily different, was an extremely exciting opportunity."
The premiere was followed by a glitzy after party at London nightclub Chinawhite.
Meanwhile, the film's distributor Icon has devised a "Who's Your Double" facebook game, which asks you to choose which celebrity you think you look like and get your friends to vote on the likeness. Whoever gets the most votes gets a goodie bag. Your chance of winning depends entirely on how nice your friends are!