Dir: Philippe Le Guay. France 2010. 100 mins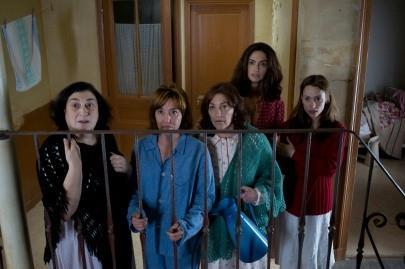 A stuffy Parisian bourgeois husband falls for his Spanish maid and discovers a new world of passion, freedom, flamenco and paella. Philippe Le Guay's Service Entrance (Les Femmes du 6e Etage) could hardly be any more stop-me-if-you've-heard-this-one-before, except for the fact that the story is set in 1960, with the Spanish Civil War vaguely sketched in as a backstory.
No film featuring Luchini can ever be entirely bad, and the actor rises to the event gamely, doing his patented chinless shtick with some grace.
Other than a few droll period references and a handsomely evoked, quaintly drab early 1960s Paris, there's little else to distinguish this heavy-handed romantic comedy - 'romantic comedy' of the old French '70s school, that is, rather than rom-com in the modern sense. A dependably game performance by Fabrice Luchini - whose comic star is in the ascendant following François Ozon's Potiche - will ensure a respectable show at the French box-office.

It will be too featherlight for many festivals, but unchallenging easy charm and heavy dosage of stereotypical Frenchness and Spanishness alike probably won't harm its prospects with distributors specialising in fluffier middlebrow foreign language fare.

After playing memorably against type as a boorish factory owner in Potiche, Luchini reverts to more familiar form as a sheltered Parisian grand bourgeois, stockbroker Jean-Louis Joubert. Jean Louis has lived all his life in the apartment block owned by his family, where he lives with his equally spoilt, and considerably more neurotic wife Suzanne (Kiberlain, similarly doing a trembling-greyhound routine that comes as second nature to her).

After arguing with a long-time family maid who's too used to having her way, the couple find themselves short of domestic help. But Spanish migrants are pouring into France in an exodus from Franco's Spain, and unbeknown to Jean-Louis, the sixth floor of his building is occupied by Spanish domestics living in cramped and squalid accommodation.

One of them is Concepcion (Maura), whose young niece Maria (Verbeke) is newly arrived and looking for work. She lands the job at the Jouberts' and before long, her bright personality and no-nonsense ways have not only restored domestic calm, but she also inspires Jean-Louis with a passion for all things Hispanic - not least Maria herself.

Not remotely convincing, the nascent romantic entanglement between paunchy Jean-Louis and the attractive young Maria is more embarrassing than heart-warming - especially when he spies her framed in the bathroom like a Bonnard nude.

Still, no film featuring Luchini can ever be entirely bad, and the actor rises to the event gamely, doing his patented chinless shtick with some grace. Verbeke is also effective as Maria, although she can't do much with the character's one-dimensional vivacity. Especially wasted is Carmen Maura in a supporting slot that doesn't require her to do more than be Spanish, but the liveliest turn is her fellow Almodóvar alumna Dueñas, as a sharp-tongued Communist.


Production company: Vendôme Production
International sales: SND Groupe M6, www.snd-films.fr
Screenplay: Philippe Le Guay, Jérôme Tonnerre
Producers: Philippe Rousselet, Etienne Comar
Cinematography: Jean-Claude Larrieu
Editor Monica Coleman
Production designer: Pierre-François Limbosch
Main cast: Fabrice Luchini, Sandrine Kiberlain, Natalia Verbeke, Carmen Maura, Lola Dueñas