Dir: Steve McQueen. UK. 2011. 99mins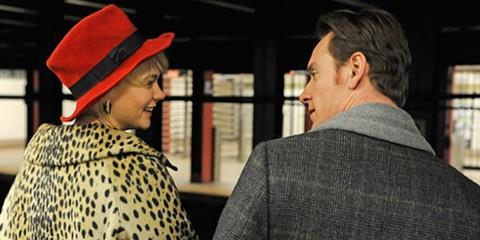 Provocative, beautifully directed and perfectly performed, British artist-turned-director Steve McQueen second film is a compulsive story of sexual addiction and deserves to break out to mainstream audiences. Michael Fassbender and Carey Mulligan both deliver stunning performances that should attract awards attention, while the film is likely to become a heavily talked-up film. Sex sells…but sexual addiction makes make for sublime drama.
Shame is a film that will excite attention… it is driven by a strong and confident directorial style and two magnificent central performances.
Michael Fassbender and Steve McQueen worked together on the director's debut film Hunger, and since then, with roles in Inglourious Basterds, X-Men: First Class, Jane Eyre and the new David Cronenberg film A Dangerous Method, he has proven his range and burgeoning star qualities. In Shame he delivers a gripping performance of an apparently successful and dapper young executive at ease with his delight in sex and unwillingness to make commitments, and is impressively complemented by Carey Mulligan's raw – but oddly tender – turn as his younger sister.
Filming in New York, and making great use of the Manhattan locations while never resorting to tourist shots, Steve McQueen shows a real skill in his direction, framing shots beautifully, but also making his story challenging and absorbing, and offering up a story of sexual obsession that is gripping and moving and never offering up any easy answers. The film world premiered at the Venice Film Festival and is certainly a mid-point highlight of the festival.
Fassbender plays Brandon, a seemingly successful executive – though never clear about what exactly he does – who blends his secure existence (his apartment is ordered and tidy with the obligatory record player and collection of old LPs) with sexual encounters…whether they be one-night stands, prostitutes arriving at his apartment, sex outdoors with a woman he meets at a bar, masturbation in the shower or in the toilet at his work, or simply watching porn at his laptop.
Sleek, well groomed and at ease, Bradon seems to attract beautiful women at will, though he tends to avoid a series of messages on his phone. This, it turns out, is his free-spirited sister Sissy who turns up at his apartment out of the blue, asking to stay a few days. Their relationship is prickly and difficult to say the least, but he lets her sleep in her couch…on the understanding that she doesn't encroach on his lifestyle.
But the next night, after he and his boss David (James Badge Dale) go to see her singing at a bar (a slow, slow, rendition of 'New York, New York') she ends up sleeping with David, and Brandon's anger and frustration starts to grow.
He goes on a date with beautiful work colleague Marianne (a charming and engaging Nicole Beharie), and over dinner he stumbles to find the ability to have a normal conversation – his assignations tend to be short on chat and strong on sex – apart from describing his lack of interest in relationships and conviction that the concept of spending ones life with one person is ridiculous.
Brandon continues to argue with his sister (their relationship is clearly deeply complex and she has self-harmed in past) and in an oddly amusing moment he decides to throw his (admittedly quite massive) porn collection away, and taking Marianne to a classy hotel room with glass windows overlooking the river attempts to have sex with her…
His inability to begin a relationship outside his normal sexually obsessive agenda sees him descend into a darkness. In a bid to escape his connection with her, he throws Sissy out of the apartment and heads off into a night of spiraling sexual debauchery that sees him beaten, bruised and veering into a gay bar before heading off for a little threesome with two compliant women. While hardly a descent into hell, it is certainly journey of pleasure and punishment (but then as they say, pain is pleasure and pleasure is pain), and sees him emerge at a certain ease (though never ashamed).
A final twist dips into the dark demons that lurk at the core of his relationship with Sissy (she leaves a message stating 'we are not bad people..bad things have happened to us') but details are never explored or explained and he seeks nor achieves any real kind of redemption even as a moment of drama focuses on bringing he and Sissy together.
Perhaps the title refers to an unexplained moment in Brandon and Sissy's past, or perhaps McQueen is hinting that Brandon finally feels a shame in his behaviour and seeks to change. In truth it doesn't really matter – the real strength of the film is its stark, brutally honest and challenging detailing of one man's obsession with sex.
Michael Fassbender is gripping as Brandon – he starts the film naked, wandering about his apartment, and is called upon to offer up a raw and exposed performance as a vaguely smug, uncommunicative and overly-sexually confident man is forced to confront his demons. Lithe, languid and physically at ease with the role, Fassbender confirms – if confirmation were needed – that he is amongst the most talented of his generation.
If Fassbender, though, is the dark and brooding core of the film, then Carey Mulligan's nicely judged performance as the troubled and needy Sissy is a perfect counter-balance. As with Fassbender, her on-screen introduction is naked, but she is called upon to provoke and challenge his character. While he is ordered, tidy and always dressed in grey and black, she is messy, flighty and colourfully dressed…for Mulligan it is one of her finest performances since An Education, and proves she is at her best when challenged in a role.
Oddly, a quite wonderful scene that best exemplifies the film – and contains a moment of honest shameful realisation – comes right at the start of the film. As Brandon travels on the subway to work he has eye contact with an attractive woman (wonderfully played by Lucy Walters). She is clearly sexually aroused by him and slowly and almost imperceptibly writhes in pleasure until there is a look of 'shame' on her face (she is married) and she gets off the subway at the next stop and escapes through the crowds, with Brandon, feeling there is another sexual conquest there for him, following but losing sight of her.
In this one small scene, wonderfully shot and performed, the film's elements of sexual hunger, desire, obsession and – yes – shame are strikingly explored.
Shame is a film that will excite attention – good and probably bad as well – and while oddly familiar in structure (the third 'descent into hell' act is rather obvious if extremely well shot and edited) it is driven by a strong and confident directorial style and two magnificent central performances.
Production companies: See-Saw Films, Film4, UKFC
International sales: HanWay Films, www.hanway.com
Producers: Iain Canning, Emile Sherman
Executive producer: Tessa Ross
Co-producer: Bergen Swanson
Screenplay: Steve McQueen, Abi Morgan
Cinematography: Sean Bobbitt
Editor: Joe Walker
Production designer: Judy Becker
Music: Harry Escott
Main cast: Michael Fassbender, Carey Mullighan, James Badge Dale, Nicole Beharie