Dir/scr: Mark Albiston, Louis Sutherland. New Zealand. 2013. 98mins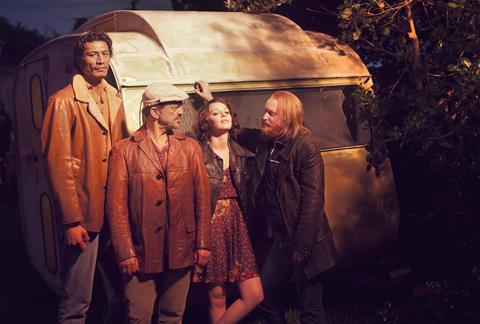 A spiky New Zealand movie with heart and gathering tension, this is the first feature from Albiston and Sutherland, whose previous short films, especially Six Dollar Fifty Man (2009), won impressive international awards. Set in the picturesque North Island coastal area where the director-writers grew up, Shopping is both a labour of love and an insider's indictment of local attitudes to family, race and provincialism.
The two boys, both first-time actors, are splendid discoveries, finely directed.
Though made without concessions to an outsider's ignorance of local social history or vernacular, this coming-of-age movie is certain to be an exotic festival favourite. The film screened at Sundance, Berlin and Sydney film festivals and was released theatrically in New Zraland at the end of May.
For 'shopping' read 'shoplifting' — that is, raiding as many of a small town's businesses as an itinerant gang of oddball crims can manage. Into their alluring orbit comes lonely teenaged shop assistant Willie (Paulo), whose disturbed home life we have already glimpsed.
His Pacific Islander mother Theresa (Fepuleai) is in passive alliance with his violent, hard-drinking 'European' father Terry (Browning) who fears for his son's future in a racist society. 'If you keep your nose clean the bastards will never get you,' he tells his cowering son, whose younger brother Solomon (Dennison), overweight and in a fantasy world of his own, is his only friend.
Visiting gang leader and crafty father-substituteBenny (Koman) knows exactly how to attract the lonely Willie to help with his daily thieving expeditions. His sullen teenaged daughter Nicky (Petersen) is a handy, if dangerous, lure.
Set in 1981, the blatant racism of the townspeople is confronting — Willie and his brother are dismissed as 'coconuts' — and there are scenes of considerable violence, domestic and public. The two boys, both first-time actors, are splendid discoveries, finely directed. Koman is attractively chilling and unpredictable. Cinematography from Ginny Loane is excellent throughout, as is the soundtrack with original music by Grayson Gilmour.
Production company: Warp Films Australia
International sales: NZ Film, www.nzfilm.co.nz
Producers: Sarah Shaw, Anna McLeish
Cinematography: Ginny Loane
Editor: Annie Collins
Production designer: Josh O'Neill
Music: Grayson Gilmour
Website: www.shoppingthemovie.co.nz
Main cast: Kevin Paulo, Julian Dennison, Jacek Koman, Alistair Browning, Laura Petersen, Maureen Fepuleai, Bryon Coll, Matthias Luafutu