Dir: Sean McNamara. US. 2010. 106mins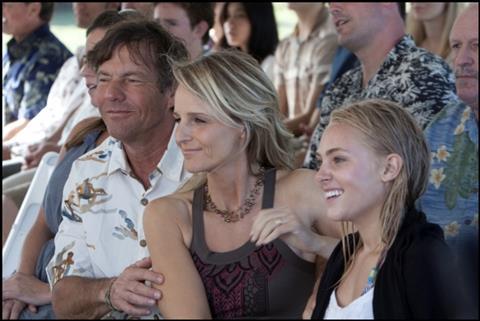 Hokey but sweet, Soul Surfer tells the real life story tells the real-life story of teenage Hawaiian wave rider and shark attack victim Bethany Hamilton. With its impressive surfing footage and inspirational message it has ingredients that could appeal to several demographics – families, female teens, surfers and the faith-based audience – though there's also a danger it might fall through the cracks between those groups.
Dennis Quaid and Helen Hunt give the film some needed dramatic weight.
The indie production's commercial prospects are certainly best in the US, where FilmDistrict and Sony's TriStar are releasing on April 8, with Sony's Affirm Films handling the Christian audience marketing. The subject matter and tone will be a tougher sell in the international marketplace, where independents are distributing in some markets and Sony in others.
Talented amateur surfer Hamilton was thirteen when she lost her left arm in a 2003 shark attack off the picturesque Hawaiian island of Kauai. But, as recounted in her teen-targeted Soul Surfer book, she confounded expectations and got back on her board, eventually becoming a successful professional surfer.
Co-written by Baywatch executive producer Douglas Schwartz and scripter Deborah Schwartz, the film recreates the attack and then spins out the story of how Bethany (engagingly played by AnnaSophia Robb, from Race to Witch Mountain) returns to surfing. The inclusion of a life changing church-organised trip to help victims of the Indian Ocean tsunami gives the tale dramatic shape but feels a little clumsy.
The Hamilton family's Christianity is woven fairly subtly into the story and the film's creation of a mean spirited rival for Bethany sets up an efficiently rousing sport movie-style climax with some beautiful Hawaiian surfing footage (for which the real Hamilton did much of the surfing).
Playing Bethany's supportive parents, Dennis Quaid and Helen Hunt give the film some needed dramatic weight. Country music star Carrie Underwood is less convincing as Bethany's church youth group leader, though her presence might give the film extra appeal for country fans.
Production companies: Brookwell McNamara Entertainment, Life's A Beach Entertainment, Mandalay Vision
North American distribution: TriStar Pictures, FilmDistrict
International sales: QED International, www.qedintl.com
Producers: Sean McNamara, Douglas Schwartz, David Brookwell, Roy 'Dutch' Hofstetter, David Zelon
Executive producers: David Tice, Dominic Ianno
Screenplay: Sean McNamara & Deborah Schwartz & Douglas Schwartz & Michael Berk, based on the book by Bethany Hamilton, Sheryl Berk, Rich Bundschuh
Cinematography: John R Leonetti
Production designer: Rusty Smith
Costume designer: Kathe James
Editor: Jeff W Canavan
Music: Marco Beltrami
Website: www.soulsurferthemovie.com
Main cast: AnnaSophia Robb, Helen Hunt, Dennis Quaid, Carrie Underwood, Kevin Sorbo