Dir: Duncan Jones. US. 2010. 93mins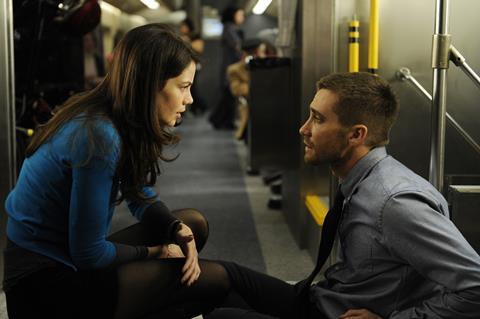 Source Code finds British director Duncan Jones living up to at least some of the promise he showed with his award-winning feature debut Moon. With Jake Gyllenhaal starring, this engaging independent sci-fi thriller could make a decent mark theatrically before it moves on to what should be strong video and TV performances.
Gyllenhaal brings essential emotional weight to the story and he's backed by a strong supporting cast.
After premiering at the SXSW film festival, the Vendome Pictures/Mark Gordon production opens in the US (through Summit) and the UK (through Optimum) on April 1. In those territories and others distributors will be hoping that Gyllenhaal - who previously tried this genre in The Day After Tomorrow and cult favourite Donnie Darko - can pull in moviegoers beyond the core sci-fi audience.
Gyllenhaal's Captain Colter Stevens is a US army helicopter pilot who becomes part of a government experiment that lets him inhabit another man's identity for the last eight minutes of that man's life. Stevens' mission - which occasionally echoes the more elaborate plot of Inception - is to avert a terrorist plan to kill millions with a dirty bomb planted in downtown Chicago.
The premise is pretty vague: it's not time travel but "time re-assignment," says the requisite mad scientist (Quantum of Solace's Jeffrey Wright) - something to do with short term memory and the post-mortem persistence of neurological activity.
But just as he did in Moon, Jones does an agile job keeping the story's mysteries - in this case the identity of the terrorist and the exact nature of Stevens' mission - alive. The director also makes the most of a limited narrative space: the plot has Stevens returning to the same eight minutes of the past again and again, each time recalling a little more about his task.
Gyllenhaal brings essential emotional weight to the story and he's backed by a strong supporting cast. Michelle Monaghan (Due Date) plays a role that feels like a Hollywood-required romance angle, but Vera Farmiga (Up in the Air) is good as Stevens' sympathetic military minder.
Production companies: Vendome Pictures, Mark Gordon Company
US distributor: Summit Entertainment
International sales: Summit International, www.summit-ent.com
Producers: Mark Gordon, Phillipe Rousselet, Jordan Wynn
Executive producers: Jeb Brody, Fabrice Gianfermi, Hawk Koch
Screenplay: Ben Ripley
Cinematography: Don Burgess
Production designer: Barry Chusid
Editor: Paul Hirsch
Costume designer: Renee April
Music: Chris Bacon
Website: http://www.enterthesourcecode.com
Main cast: Jake Gyllenhaal, Michelle Monaghan, Vera Farmiga, Jeffrey Wright