Spain is hoping to tap into the revival of the swashbuckler with Lope, the story of 16th playwright Lope De Vega, directed by Brazil's Andrucha Waddington and shot in Morocco.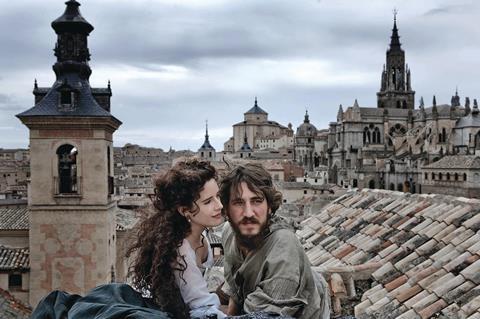 The $20m Spanish-Brazilian action adventure Lope has been 10 years in the making and has passed through the hands of some varied players along the way, including Columbia Pictures, Warner Bros and even an acolyte of Opus Dei.
The project began life in 1999 when Jordi Gasull, then head of development at renowned Spanish producer Elias Querejeta's company Esicma — where his credits included Manuel Poirier's Film Les Femmes Ou Les Enfants D'Abord starring Sergi Lopez — decided he wanted to make a film about a Spanish historical figure.
"It's very important when financing a Spanish movie to have one of the three major national TV networks backing you"

Jordi Gasull, producer, El Toro Films
"A friend of mine gave me three biographies, one on [Don Quixote author] Miguel de Cervantes, another on the architect Juan De Herrera and finally one on the 16th century playwright Lope De Vega. It was this final book that grabbed me as his life sounded as interesting as his plays," says Gasull.
Querejeta was not happy with the first draft of the script, which focused on Madrid-born Lope's turbulent early life and a love triangle between Lope, his partner Elena Osorio and his lover, Isabel de Urbina, the sister of King Philip II's earl marshall, who he kidnapped and took to Lisbon. "Elias thought it was too Hollywood, too young and too adventurous," Gasull recalls. "So we shifted the focus of the film."
But when Gasull moved from Querejeta's company to become vice-president of creative affairs at Columbia Pictures in Spain, the studio was keen to stick with the original approach. Gasull bought the rights to the project from Querejeta and developed it through Columbia. As an executive at the studio, Gasull was not allowed to continue working on the script so he hired an experienced writer to help develop the story, Ignacio Del Moral, best known for writing the award-winning Mondays In The Sun starring Javier Bardem and now working on the Spanish civil war drama The Mule to be directed by Michael Radford.
When it came to choosing a director, Gasull and Iona De Macedo, then president of Columbia's Spanish production unit, had one man in mind — Brazil's Andrucha Waddington, who Gasull believes is "a Latino David Lean".
Waddington's 2005 film, the Portuguese-language House Of Sand, about a woman forced to live in a desert wilderness by her husband, had a strong emotional impact on Gasull.
"I read [the Lope script] in one sitting and found myself crying," says Waddington. "It was one of the most moving scripts I'd ever read. I called [Gasull] back and said, 'Let's do it.'"
Back in fashion
But the film hit a stumbling block when Sony Pictures decided to shut its Madrid-based Columbia production office. Gasull set up his own company, El Toro Films, and enlisted the help of Edmon Roch, head of Ikiru Films, who co-produced Perfume: The Story Of A Murderer.
Interiors were filmed in regions across Madrid, including Alcala De Henares, the birthplace of Cervantes
"Getting the rights back off Columbia was difficult, as it always is with a studio," admits Roch. "But we reached a reasonable agreement because we all wanted the project to work. We made the first rights payment when we took the film from Columbia and then a larger amount on the first day of the shoot."
Once out of Columbia's hands, Gasull and Roch approached Mercedes Gamero, head of film at Spanish broadcaster Antena 3, who was immediately taken with the script.
"Classic tales like this are making a comeback," says Gamero. "You've got Jerry Bruckheimer bringing the pirate adventures to a new level, and Ridley Scott has done a Robin Hood film. There's always space for classic stories, you just have to make them feel contemporary."
Gasull believes Antena 3 has been key to the project. "It's very important when financing a Spanish movie to have one of the three major national TV networks backing you."
Regional broadcaster TeleMadrid and private pay-TV outfit Canal Plus Espana, also backed the project by buying TV rights from Antena 3. "We are combining windows, with each of us having our own run of the film on our channels. We have the majority rights with a contribution from the other two broadcasters," explains Gamero.
Funding sources
Most of the $15.6m (€21.8m) invested on the Spanish side has come from Antena 3 with additional funds from TeleMadrid and Canal Plus Espana. The national film institute ICAA has also invested $982,000 (€700,000) through its funding scheme available to projects budgeted at more than $4.2m (€3m).
Further investment was secured from Madrid Sur and Intereconomia, one of Spain's radio and TV corporations, whose president, Julio Ariza Irigoyen, is a known member of Opus Dei. Gasull and Roch also put up money via their own production companies.
Most of the $15.6m (€21.8m) invested on the Spanish side has come from Antena 3 with additional funds from TeleMadrid and Canal Plus Espana.
The two raised the outstanding $4.4m (€3m) of the $20m (€14m) budget in Brazil. Waddington's own company, Conspiracao Films, accessed $1.4m (€1m) from major telecoms company Telefonica through Brazil's Chapter 1 tax incentive, which allows companies to use part of their corporate tax money to invest in local film projects. A further $1.4m came from Warner Bros Latin America through the Chapter 3 incentive, which allows studios to invest in independent Brazilian productions or co-productions, using up to 70% of the withholding tax they normally have to pay on their royalties from major Hollywood films. Post-production company Moonshot Pictures and Conspiracao Films contributed the rest.
"We thought it was a fascinating project about such a rich life," says Leo Barros, a producer at Conspiracao Films. "The fact it is in Spanish [rather than Portuguese] attracted us because we feel it can work not just in Spain, but also Latin America and the US."
Although the film is set in Madrid and Lisbon, the team decided the streets in those cities were too narrow for the cameras and had changed considerably since the 16th century. Instead, the film's exteriors were shot in Safi and Essouira in Morocco, which "look exactly how Madrid did 400 years ago", says Roch.
Interiors were filmed in regions across Madrid, including Alcala De Henares, the birthplace of Cervantes. The local council provided an old stable free of charge, in return for some of the 16th century items used by the crew for the production.
"We managed to remake Lope's and Isabel's houses in this stable. We just had to put covers on the walls and dress the rooms with furniture," says Waddington.
Newcomer Alberto Ammann was cast as Lope, his second feature following Daniel Monzon's prison drama Cell 211, now in post. He was drafted in only four weeks before the start of shooting, after German actor Daniel Brühl pulled out at the end of last year. According to Waddington, Brühl "didn't feel comfortable playing a famous Spanish figure".
Festival target
Lope's love interests, Elena and Isabel, are played, respectively, by Pilar Lopez de Ayala, who starred in Agustin Diaz Yanes' 2008 Goya winner Just Walking, and Leonor Watling, one of Spain's leading young actresses who is about to start filming Glenio Bonder's Belle Du Seigneur alongside Olivier Martinez. Lope's cast is rounded out by Antonio de la Torre as Juan De Vega, an ambassador of Charles V, and Luis Tosar, who plays Lope's mentor Fray Bernardino De Sahagun.
The film is now in post-production at Moonshot Pictures in Brazil and is expected to be ready for delivery by early 2010. "It is one of the biggest Spanish films this year so we are hoping to place it at either Berlin or Cannes," says Roch.
Warner Bros has distribution rights for Latin America and an international sales company is in talks with the producers to handle the rest of the world.
"It's taken a while to put Lope together but we're very happy as a team and with the way the shoot has gone. So much so that we're all planning to work together again on various projects," says Gasull.
They include Daniel Benmayor's 19th century drama Bruc (Ikiru-El Toro), starring Vincent Perez and Juan Jose Ballesta, Enrique Gato's 3D animation film Tadeo Jones (El Toro-Ikiru-Conspiracao) as well as the Waddington-directed romantic drama Sun Seekers (Ikiru-El Toro-Conspiracao) set around the Incas of Peru. All are in various states of production.
In Figures
$20m
Total budget for Lope

$15.6m
Total Spanish investment in Lope

$4.4m
Total Brazilian investment in Lope

10
Number of years Lope was in development