The television business is seeing an influx of independent US film companies. John Hazelton explores the shifting production landscape that is making the small screen so attractive - even if the move can be tough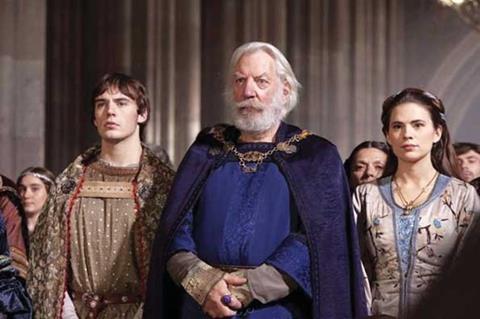 Attendees at this week's Mipcom television market might have been surprised to see the name of Harvey Weinstein, an icon of the US independent film scene but a less prominent figure in television circles, on the event's list of keynote speakers.
Yet Weinstein's presence at the Cannes programming bazaar should not come as a surprise. It is indicative of an ongoing push by independent US film production companies - recent entrants have included Graham King's GK Films, Alcon Entertainment, Michael Bay's Platinum Dunes, Emmett/Furla Films and Weinstein's own The Weinstein Company (TWC) - into the once distinctly separate world of television production.
'The television business is almost impossibly hard, which is why so many film companies that have tried it have failed'

Tom Forman, RelativityREAL
The film outfits have been responding to changing conditions in the film and television businesses: decreasing demand for character-based dramatic features (the Hollywood studios now preferring action-heavy would-be blockbusters), increasing demand from US cable networks for distinctive original programming and greater willingness on the part of theatrical film talent to work in television. And they have been spurred by the small-screen success achieved by the likes of Imagine Entertainment (24), Lionsgate (Mad Men) and producer Jerry Bruckheimer (CSI).
"Television is going through a renaissance," says Jane Rosenthal, co-founder with Robert De Niro of Tribeca Productions, best known for film work but now developing TV projects. "Television is offering more opportunities to tell stories; it just offers more creative freedom."
But while the film players have a common motivation for moving into television, they are taking a variety of different routes into the TV world. As a result, they are delivering a variety of programming to the global television marketplace. For some, television movies and mini-series have been a natural entry point. Scott Free Productions, founded by Ridley and Tony Scott, got into television more than a decade ago with HBO cable movies RKO 281 and The Gathering Storm and has continued to turn out long-form programming for a growing list of cable networks.
The company has also made the leap into broadcast network series production with Numb3rs and award-winning drama The Good Wife and is developing a series for cable network Showtime. And it has entered the international television co-production business with cable mini-series The Pillars Of The Earth and World Without End, both made with Germany's Tandem Communications.
International co-production is an area in which the reputation of a US film company can play an important role, says David Zucker, president of television at Scott Free, which is developing 13-episode series The Drivers with the UK's Headline Pictures (as well as FremantleMedia and Sennett Entertainment). On The Pillars Of The Earth, says Zucker, "there was certainly tremendous value to the Scott Free brand in terms of the confidence that buyers would have."
A couple of film outfits have, paradoxically, found their way into television with reality or unscripted programming. TWC inherited its Project Runway fashion contest project from Harvey and Bob Weinstein's Miramax and followed up with HBO crime series The No.1 Ladies Detective Agency and another reality series, Mob Wives. Now TWC is preparing martial-arts series Marco Polo for the Starz cable network. Relativity Media made its entry into TV by recruiting Emmy-winning reality producer Tom Forman to create and lead television arm RelativityREAL, which this year has made 23 unscripted series and generated $120m in revenue.
'Television is offering more opportunities to tell stories. It just offers more creative freedom'

Jane Rosenthal, Tribeca Productions
Forman argues that original reality programming has limited Relativity's initial risk in television while providing upside potential through the exploitation of format or international rights. He is looking to expand the company's television reach by delving into Relativity's feature catalogue. An unscripted series based on the Relativity-distributed documentary Catfish is due to debut on MTV in November and a scripted series based on the company's surprise hit action film Act Of Valor is in development. Scripted series could also be based on the life rights and true stories the company accumulates during the development of unscripted projects. "We know our core competencies," Forman says, "and we know when we stray beyond them we're going to have to prove ourselves. So we've got to come up with something that makes us unique. Relativity's underlying theatrical hits, its owned IP, is one of those things."
Other film indies see television as a new outlet for material that might once have seemed suited only to the world of theatrical features. Tribeca, for example, which has previously produced two short-lived broadcast network series and currently has a medical drama in contention at CBS, is now developing a series for Showtime based on characters from its 2006 feature The Good Shepherd. Eric Roth, who wrote the Cold War spy film, is set to executive produce the series and De Niro, who directed the film, would direct the series pilot.
Rosenthal, who began her career in television, suggests that though the project could have been developed as a feature sequel to the original film, the TV route offered more potential. "Would it get done as a feature right now, when you look at what is being made? No," she suggests. "Do you want to spend all that time and go through that frustration? No. It's like banging your head against a wall. So let's go do it where you know it has an audience."
One company, meanwhile, plans to expand into television by adapting the financing strategies it uses in the independent film world. Emmett/Furla Films recently launched a television division with a two-year commitment to finance 20 episodes per year of Rescue 3, an action series about emergency services set on the beaches of southern California. Created by Baywatch executive producer Greg Bonann, the series will shoot in North Carolina (taking advantage of the state's 25% tax credit) on a budget of $1.5m per episode, syndicated in the US by Tribune Entertainment and pre-sold internationally, probably by one of the studios' international television arms.
The television business, says Emmett/Furla principal Randall Emmett, has recently become "more accepting" of film industry financing moves such as pre-selling international rights and using tax incentives to control production costs. "We looked at a lot of TV opportunities we didn't feel were right for us," Emmett reports. "[Rescue 3] came along and it was just a good fit. Financially, we understood it." Emmett/Furla hopes to extend the financing strategy across a slate of series. "We are modelling it out just like we model our movie financing," says Emmett's partner George Furla.
Also, Sierra/Affinity and Engine Entertainment have launched Sierra/Engine Television, headed by Engine CEO Chris Philip, which offers new projects including Crossbones from Luther creator Neil Cross and producers Walter Parkes and Laurie MacDonald, and Hunters from J Michael Straczynski and Will Smith's Overbrook Entertainment.
'We looked at a lot of TV opportunities. Rescue 3 came along and it was a good fit. Financially, we understood it'

Randall Emmett, Emmett/Furla
Only time and ratings will tell whether the television plans of Emmett/Furla and other film companies come to fruition or go astray. While some US film outfits have already become significant players in the television business, some have found the transition tricky. Most recently, Legendary Pictures, which 18 months ago signalled its ambitions by hiring cable executive Jeremy Elice and negotiating a deal with Warner Bros Television, has reconsidered its expansion. Though the producer of summer smash The Dark Knight Rises is said not to have scrapped its plans altogether, it has reportedly ended its Warner deal and Elice will be leaving.
Executives who have worked in both businesses suggest that film companies can be overconfident about their television prospects and unaware of the differences between film and television production. Film companies, says Forman, "assume because there is some cachet to feature film that they will be greeted as conquering heroes in the TV space. Buyers are savvier than that".
What film companies will find, Forman warns, is that the television business is "almost impossibly hard, which is why so many film companies that have tried it have failed. What they will discover is smaller margins, more work and more failure for every success. It's a really tough business."