Dir/scr: Aldo Tardozzi. Croatia. 2011. 93mins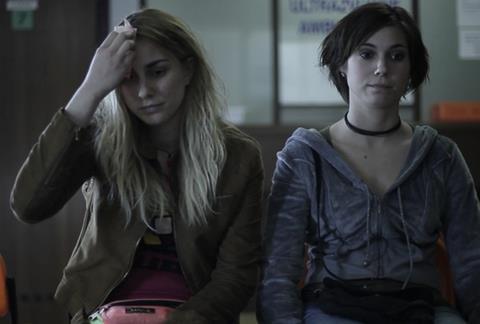 The sleazily freewheeling 'adventures' of two young women who spend a night of crime and revenge on the mean streets of Zagreb makes for intermittently engaging viewing in writer/director Aldo Tardozzi's slickly shot debut feature. But while there is a degree of style the characters fail to really engage as the pair spiral out of control and into the night.
Perhaps most distinctive is a cool animated credits sequence at the start of the film.
The game lead performances by Iskra Jirsak and Nika Miskovic help give the Spots (Fleke) a certain energy – and there are also moments of smart humour – though the film is most likely destined for further regional festival screenings rather than breaking through into international distribution. It had its world premiere at the Sarajevo Film Festival.
Seventeen year-old Lana (a charismatic, though perhaps too subdued Jirsak) heads out on a date with musician older boyfriend Igor (Zivko Anocic), but this amounts to him simply wanting to have sex with him in the back of a taxi, where he deflowers her against her will.
Nearby, blonde druggie Irena (Miskovic) gets into an argument while robbing a taxi driver and shoots him. The two young women meet in the bathroom of a nearby bar – both have bloodstains (hence the film title Spots)…Irena on her jacket from the gunshot and Lana on her skirt from the sex. A brief encounter with the police sees them decide to switch clothes (unconvincing) and start a strained friendship (more unconvincing).
Their nighttime fun'and'games sees them break into Irena's family home (an amusing moment of physical comedy as they struggle to put up a ladder to her brother's bedroom); visit a hospital where they try and steal drugs and eventually plot to shoot Igor.
While Jirsak's performance as the more mild-mannered Lana is quite engaging, Miskovic's Irena is never convincing. It is hard to have any sympathy for this drug-addled killer, and despite her having the toughest of times (being smashed on the head by her father and then struggling to deal with lack of drugs) she is actually a rather unpleasant individual.
Perhaps most distinctive is a cool animated credits sequence at the start of the film that has you hoping it may head into Run, Lola Run territory, and while the nighttime Zagreb locations are impressive shot by cinematographer Darko Drinovac and Aldo Tardozzi directs well enough, his script lacks the charm and insight to convince. It is a slick enough film that may appeal to Croatian youth, but will have limited appeal elsewhere.
Production company/sales contact: Kinoteka, www.kinoteka.hr
Producers: Barbara Jukopila, Ljubo Zdjelarevic, Tomislav Vujic
Cinematography: Darko Drinovac
Editor: Mato Illijic
Production designer: Damir Gabelica
Music: Luka Zima
Main cast: Iskra Jirsak, Nika Miskovic, Zivko Anocic, Goran Grgic, Sanja Vejnovic, Filip Krizan, Franjo Kuhar, Alen Liveric