Dir: Rolando Colla. Italy-Switzerland . 2011. 101mins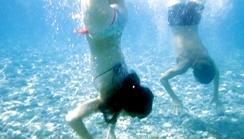 Adults and kids in an Italian seaside campsite bond and split with naïve intensity in Italian-speaking Swiss director Rolando Colla's latest feature. Raw in both the good and bad senses of the word, Summer Games (Giochi d'Estate) has heart and throws some dramatic punches, but suffers from an undercooked story that keeps taking refuge in manufactured, school-of-Loach revelations, confrontations and reconciliations when it can't think where to go.
Fresh, occasionally dreamlike photography helps us forget some of the story clichés.
This is a minor, barely commercial film of a kind perhaps more suited to its home territory of Locarno than Venice – where it was given a 'what do we do with it?' Out of Competition slot.
Summer Games does capture the essence of a truth about children who are turning adult when so many of the adults around them are still emotional infants. That's not enough though, to overcome the longueurs of a largely circular story which can make few claims to originality and resorts to small shocks – Lord-of-the-Flies-like episodes of child-on-child cruelty, a rape that turns into rough sex, the killing of a dog – to hold our interest. Keeping us watching are some peppy, natural performances by child actors – especially the film's lead, Armando Condolucci, a pugnacious but sensitive lad who if he sticks with acting could well become a sort of Italian Martin Compston.
Condolucci plays Nic, a 12-year-old boy from Rome on holiday with his parents and younger brother Agostino (D'Orazi) in a campsite in the Maremma, a once wild and swampy strip of Tuscan coast that is now tamed by agriculture and tourism. His dad Vincenzo (Merone) is a Southern Italian labourer with gypsy looks and wacky sideburns, whose low self-esteem translates into violence towards the boys' mother Adriana (Barela), a proletarian pasionaria caught between weary disgust and romantic optimism.
After a territorial standoff, the two brothers make friends with three other kids, Chinese-Italian Lee (Huang) and sister-like girlfriends Marie (Campanella) and Patty (Scolari). They hang out on driftwood-strewn beaches, cycle on forest tracks under the umbrella pines and adopt a shack in a cornfield as their den, where tough-guy Nic persuades the others to pay a 'murderer' game involving victims and torturers.
There's a heavy touch here that spoils the grace of the allegory: sure, it's just about believable that a twelve-year old boy with an abusive father would design a game in which his frustrations with the adult world come out, but to push this by making him tell the girl he fancies (Marie) that he has learned not to feel anything takes away the spontaneity and makes him too much of a director's mouthpiece. Story development falls into the same trap, giving Marie an absent father and a mother conflict to mirror Nic's loser father and self-exclusion from maternal warmth – it's like it was plotted on a chart.
Fresh, occasionally dreamlike photography helps us forget some of the story clichés and brings out the Huckleberry Finn side of this troubled summer idyll. Buzzing insects, swimwear worn from morning to night, broken lips, glaring sunlight and tanned pubescent skin in shallow focus build remind us of the bright and dark, intensely physical sides of endless summer holidays. And the film is not afraid either to take on the nascent sexuality of pre-teens in a way that never feels exploitative.
Production companies: Peacock Film, Classic srl
International sales: Rezo Films, www.rezofilms.com
Producers: Elena Pedrazzoli, Amedeo Pagani, Ilann Girard
Executive producer: Ilann Girard
Screenplay: Rolando Colla, Roberto Scarpetti, Olivier Lorelle, Pilar Anguita-Mackay
Cinematography: Lorenz Merz
Editor: Rolando Colla, Didier Ranz
Production designer: Paola Genni
Music: Bernd Schurer
Main cast: Armando Condolucci, Fiorella Campanella, Alessia Barela, Antonio Merone, Marco D'Orazi, Alessia Barela, Antonio Merone