Dir/scr: Jonathan Newman. UK. 2011. 85mins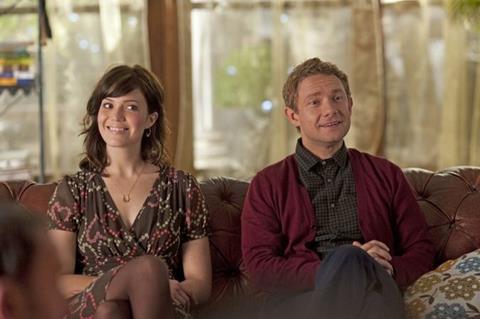 Sauciness and a sometimes sly sense of humour help give Swinging With The Finkels a much needed occasional jolt, but in the end this nicely produced British film relies too much on the tried-and-tested rom-com structure to make it anything more than modestly enjoyable. Casting of the likes of Mandy Moore, Melissa George and Martin Freemen (who has a lead role in upcoming The Hobbit) could help its ability to crack international markets.
Though sex is at the core of Swinging With The Finkels, it is not an overtly sexy film.
Writer/director Jonathan Newman used his short film Sex With The Finkels as the basis for this feature – and used it as a promo to raise the initial funding – but expanded the plot and also found room for a series of American actors to help profile. Also cast are Jonathan Silverman (from Weekend At Bernie's) and comedy veteran Jerry Stiller.
Where the film does work in the engaging chemistry between Mandy Moore and Martin Freeman (who had starred together previously in Dedication) as London-based married couple Ellie and Alvin Finkel. The Finkels met and fell in love at University, but after several years that sense of lust and fun has left their marriage, and they are bored with married life.
On the advice of their best friends Peter (Silverman) and Janet (George), who are having their own marital problems, they decide to try and spice things up…though this does involve one uncomfortable (and amusing) moment where Ellie is caught pleasuring herself with a cucumber by her visiting Grandfather (Stiller).
Eventually they settle on the notion of swinging – essentially having a 'consensual affair' within the confines of their marriage – and set about interviewing a series of oddball and sometimes perverse swingers (actually one of the film's funniest moments). They eventually settle on the seemingly perfect couple (played by UK television personality Angus Deayton and Daisy Beaumont) and arrange to meet for an evening of sex.
Things don't quite work out as planned and after separating the Finkels attempt to come to terms with love and sex – and what men and women want – before the film heads into clichéd com-com territory for the obligatory happy ending.
Perhaps that is the biggest problem with Swinging With The Finkels. It so wants to be a transatlantic variation of When Harry Met Sally that it sticks too close to the by-the-numbers rules of rom-com filmmaking when it should have had the confidence to try something a bit more off-the-wall.
Martin Freeman is engaging as Alvin and Mandy Moore quite charming as Ellie, but while they work well together there is no real sense of dynamism to help drive the film. Melissa George – best known for genre roles in the likes of 30 Days Of Night and The Amityville Horror – offers a dash of energy as feisty best friend Janet.
Though sex is at the core of Swinging With The Finkels, it is not an overtly sexy film. Which is a shame really – it needs a dash of something spicy to help make it really stand out
Production companies: Reliance Big Pictures, Starlight Film Partners, Kintop Pictures, Filmaka
International sales: SC Films International, www.scfilmsinternational.com
Producer: Deepak Nayar
Executive producers: David Mutch, Philip von Alvensleben, Thomas Augsberger
Cinematography: Dirk Nel
Editor: Eddie Hamilton
Production designer: James Lewis
Music: Mark Thomas
Main cast: Martin Freeman, Mandy Moore, Jonathan Silverman Melissa George, Paul Chowdhry, Daisy Beaumont, Angus Deayton, Jerry Stiller, Beverley Klein