Dir/scr: Peter Luisi. Switzerland. 2014. 94mins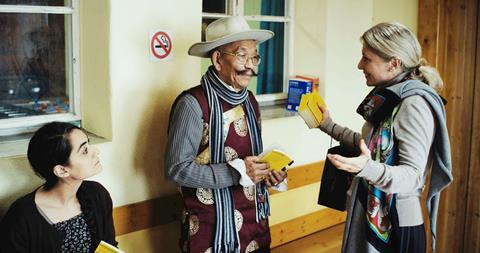 Probably intended as a feel-good treatment of a painful issue, Peter Luisi's new film Swiss Heroes (Schweizer Helden) never manages to generate either the uplifting spirits it is aiming for, or the gravity of the situation looming constantly in the background.
Occasionally the proceedings are spiced up by a few personal standup gigs, like the ones provided by Komi Mizrajim Togbonou, as the jolly, ever-optimistic man chosen for the role of William Tell.
Well intentioned no doubt, Luisi's script, which he says he has worked on for a dozen years, tries to deal with the ever-growing issue of refugees and displaced persons plaguing most of the western world through psychodrama, a subterfuge that has been often used before treating such different communities as prison inmates (the Tavianis' Caesar Must Die) or handicapped people (Thanks For Nothing, another Swiss film by Oliver Paulus and Stefan Hillebrand), to mention only a few recent examples. But intentionally avoiding the political issues, in this case, is like sticking one's head in the sand and pretending they do not exist when they are at the heart of it all.
Here, psychodrama is supposed to serve as a temporary solace for the asylum-seeking refugees lodged in a Swiss shelter and waiting for the authorities to decide whether they will be given a haven and a working permit, or will be deported back home, even though they may have no home to be deported to. Whether their performance of Schiller's William Tell for a New Year's celebration can indeed offer any assistance to their condition or their state of mind remains an open question, but the satisfaction derived by those who are putting the show together is far more evident.
Sabine (Esther Gemsch), has been a typical Swiss housewife, until her husband left her to look for more exciting company. Now she finds herself stranded, without anyone in the whole wide world to spend Christmas and New Year with. Her two daughters joined their father for a few days in the sun and the girlfriends with whom she had always gone to St. Moritz for the holidays unceremoniously drop her without offering any explanation.
She accidentally finds out that a refugee home up in the mountains was left without the entertainment they had counted for and she steps in, offering to use her modest experience as a tutor of amateur theatre, and puts on a show with the inmates, despite the fact that they can barely speak any German, if at all.
No need to follow the process whereby she manages to draw them all into her project, to overcome all the impediments which spring up every step of the way, resolving the language barriers and delivering the abridged story of the Swiss national hero, with arrows and apples included.
As if going through a check list of topics which have to be touched, Luisi manages to mention every piece of trouble that can arise from such an enterprise, but none of them appear to be serious enough to put a stop to it, not even the removal of the show's lead at the last moment, nor are they dealt in any depth beyond simply mentioning their existence. And, when towards the end, in a TV interview, the moderator accuses Sabine of being motivated only by her desire for personal gratification one is almost tempted to suspect Luisi of doing the same.
The plot, despite its being so long in the works, looks pretty much improvised from one day to another and the hesitant, routine direction relies mainly on well-established clichés and cardboard characters, never building up or generating much emotion. Occasionally, however, the proceedings are spiced up by a few personal standup gigs, like the ones provided by Komi Mizrajim Togbonou, as the jolly, ever-optimistic man chosen for the role of William Tell. It is all safe, predictable, and though Tell's final speech is supposed to carry the film's humanitarian message, there are no Swiss heroes around to justify the film's title.
Production company: Spotlight Media Productions AG
Sales contact: Frenetic Films, www.frenetic.ch
Producer: Peter Luisi
Cinematography: Nicolo Settegrana
Editor: Patrick Zahringer, Bigna Tomschin
Production designer: Chasper Bertschinger, Dido Schumacher
Music: Christian Schlumpf, Martin Skalsky, Michael Duss
Maoin cast: Esther Gemsch, Komi Mizrajim Togbonou, Karim Rahoma, Ellvis Clausen, Newroz Baz, Klaus Wildbolz, Aylin Maurer, Uygar Tamer, Ersoy Yildirim, Fahran Abdi, Carine Kapinga, Tsering Bokong, Leo Pinkus, Kamil Krejci, Elian Iten, Dominique Jann. Alexandra Prusa, Esther von Arx, Rene Ander-Huber, Joelle Witschi, Peter Zgraggen