After the international success of Golden Door, acclaimed Italian director Emanuele Crialese returns with Terraferma, a modern take on immigration. Sheri Jennings reports from the set.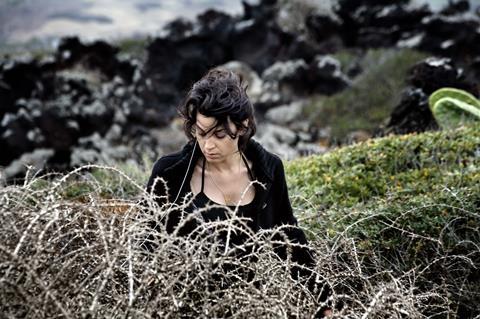 It is sweltering late-August afternoon on the remote island of Linosa, 140 miles south of the Sicilian coast. But despite the heat, which hovers at around 40 degrees, Emanuele Crialese is shooting an intense winter scene between actors Filippo Pucillo and Beppe Fiorello, whose dialogue reveals conflicting generational ideals — a central theme of the Cattleya-produced Terraferma.
Today is one of the last shooting days on the $10.7m (7.8m euros) film and Crialese is soft-spoken and calm as he goes over the intonation of every word with his actors. When the scene gets physical, the director jumps into the fray. As with his line readings, he engages in every facet of the actor's process. Around him on Linosa's Black Beach — so named because of the dark volcanic rock which forms the island — his intimate cast and crew of around 25 huddle under umbrellas and suck on popsicles between takes.
Terraferma is Crialese's third project about immigration following Once We Were Strangers (1997) and Golden Door (2006). But whereas Golden Door explored the experiences of early-20th-century Sicilian immigrants arriving on Ellis Island, Terraferma looks at Italy's relatively new, yet floundering, relationship to immigration.
Inspired by modern-day realities the film explores immigration's impact on an unidentified island, not unlike Linosa, as it comes to terms with the poor Africans washing up on its shores in barely seaworthy vessels.
Crialese's film depicts the changing reality of the islanders through the story of Giulietta (Donatella Finocchiaro), her son Filippo (Pucillo) her brother-in-law Nino (Fiorello) and Filippo's grandfather (Mimmo Cuticchio).
Each confronts changes to their traditional lifestyle, including the depletion of the traditional livelihood of fishing, and the attempt to adopt tourism which in turn is thwarted by the immigrants washing up on their shores.
"One of the things the film is about is solidarity," says Crialese at the end of a long shooting day.
"We need to deal with [immigration] in a way the Americans didn't do with the Italian immigrants. I want to remind my people that we are coming from that experience and we need to do better. We need to find a policy to not risk having people dying in the sea."
Terraferma marks the first time two of the top names in the Italian industry — Crialese and producer Riccardo Tozzi — have worked together. Crialese approached Tozzi, founder of leading Rome-based production outfit Cattleya, with the project at script stage. After changing producers with every project, Crialese says, "I wanted to have a solid producer and my conversations about the script with Riccardo were very productive and on a level that I like to have with a producer." The director says Tozzi has given him the right mix of support, artistic freedom and sound advice. "He let me talk about the artistic side but he also brings me down to earth."
Tozzi, who founded Rome-based Cattleya in 1997, is producing Terraferma with his three Cattleya partners — Giovanni Stabilini, Marco Chimenz and Francesca Longardi. Cattleya's Matteo De Laurentiis is executive producing and managed the day-to-day shooting on the island.
Cattleya decided to finance the film upfront itself. "We took an important risk because we believe in the film," says Tozzi. "We're counting on external financing and world sales but want to wait for a finished product so investors can feel more secure."
In addition to Cattleya the film is backed by Rai Cinema, which has invested $4.4m (3.2m euros), and will distribute in Italy through the Rai-owned 01 Distribution. Fabio Conversi's Paris-based Babe Films invested $890,000 and the region of Sicily, which has support from the EU and Italy's Ministry of Economic Development for bolstering Sicily's audiovisual industry is expected to contribute approximately $2.1m (1.5m euros). Cattleya will additionally access Italy's 15% tax credit for national productions.
On Terraferma Crialese has worked for the first time with a co-writer, Vittorio Moroni (Tu Devi Essere Il Lupo). And in another first Crialese is working with DoP Fabio Cianchetti, whose credits include Bernardo Bertolucci's Besieged and The Dreamers. "I saw him rehearse lighting-wise and I thought he was great," Crialese says. "I have many interiors in this film. I like to stay outside but with Fabio I want to go more interior."
As on previous projects, Crialese cast the film using a mix of professional and non-professional actors. Pucillo is a 21-year-old non-professional actor, now appearing in his third film for Crialese. "I like to mix actors with non-actors because the non-professional actor never does the same thing," says the writer-director. "That works very well. It's very real."
Donatella Finocchiaro also features as a young woman who is ready to leave the tiny confines of the island but, in several plot twists, finds herself involved with a young African refugee who makes it to shore. For that role, Crialese selected a non-professional actor — an Eritrean woman who was a real-life survivor of a terrible crossing. Due to her refugee status, the collaboration required the assistance of a Non-Governmental Organisation (NGO).
"She didn't speak Italian and had never acted but when Emanuele shot their scenes the interaction was extraordinary," says Tozzi.
Terraferma shot entirely on Linosa for 12 weeks. Tozzi says that while shooting on the island was a good choice stylistically, it posed logistical challenges. "There are no hotels with even 10 rooms and not a single gas pump," he explains.
As well as fuel, Cattleya brought around 80 people to Linosa for three months, increasing the island's 400-strong population by a fifth. But the greatest challenge was the sea. When winds are high, crossings are cancelled which meant materials often could not be delivered on time.
Despite the many challenges of its shoot, however, Terraferma will only miss its $10.7m budget by around $274,000 (200,000 euros), says Tozzi. With world sales still pending, Terraferma is in post and should be completed by March 2011. It is likely the film will be submitted to the Cannes Film Festival.
With the day's shooting done, Crialese joins the others at an outdoor restaurant on Black Beach, where the director tells Screen International about his approach to storytelling. "I'm not a realist. I try to tell my story in a way which is not realistic, which has something mysterious, mythological, symbolic or metaphoric for the audience to guess. At the risk of not being perfectly clear, I would rather leave some mystery in there, some questions open in people's minds."
That symbolism extends to the title, he says: "It means 'land', something which is safe. And it means 'terra firma' or 'land stopped'. Something not moving the way it should be because it is blocked."
Filmography
Emanuele Crialese
■ Once We Were Strangers, 1997: the story of a Sicilian living illegally in New York whose life intersects with a young Indian immigrant.
■ Respiro, 2002: a breakout hit at Cannes, where it won the grand prix in Critics' Week. The story follows a free-spirited woman (Valeria Golino) living within the confines of a small Sicilian island.
■ Golden Door, 2006: winner of the Silver Revelation Lion at the 2008 Venice Film Festival, the film stars Charlotte Gainsbourg and is set at the beginning of the 20th century, when a young Sicilian decides to emigrate to the US.