Sarah Green and Nicolas Gonda discuss Terrence Malick's "endless reservoir of ideas", the production process on To The Wonder, their ongoing collaboration with FilmNation and future projects.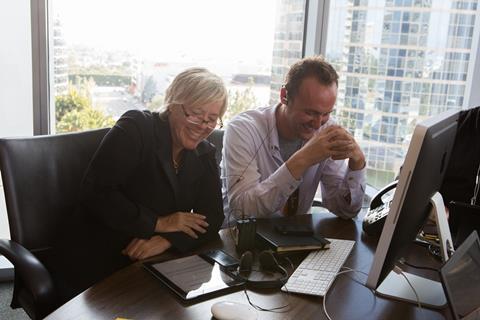 After directing four films in 42 years, Terrence Malick has now made three films in two years, with a fourth about to shoot, and another ongoing. "He's on a roll," laughs his regular producer Sarah Green.
Venice hosted the world premiere on Sunday of the lyrical and impressionistic To The Wonder, starring Ben Affleck, Olga Kurylenko, Rachel McAdams and Javier Bardem. The story follows a man who reconnects with a woman from his hometown after his marriage to a European woman falls apart.
Screen sat down with producers Green and Nicolas Gonda - who have both worked on the three films Malick has directed since 2011 - to discuss To The Wonder, Malick's working methods and future projects.
How would you describe the plot of To the Wonder?
Sarah Green: The film is about two people who love each other passionately but cannot be together. Their relationship goes through many stages, one of which sees the woman leaving to find another relationship. It's about people discovering what works in their dynamic. There is also a parallel story of a priest who finds his passion for the church to be waning.
How did the film come together?
Nicolas Gonda: Terry had been contemplating this story for a long time. After Tree of Life, he wanted to continue with a certain style of filmmaking and to do that with a recurring crew [DOP Emmanuel Lubezki, production designer Jack Fisk and key editors all return, for example], which has gelled.
We shot in Oklahoma, in a small city called Bartlesville, which is a place that has inspired Terry in the past.
And we have great partners in FilmNation and CAA on the financial side. We now have a system in place with them to give Terry the resources he needs to make the films he deserves to at this point in his career.
Joseph and Jason Krigsfeld of Brothers K are the executive producers. Their background is in the financial world. This is their first film, but they will be doing more.
The film seems to revisit key themes and ideas from previous Malick films…
NG: Yes. But aesthetically, he'll never make the same film twice. He's always challenging himself, the crew and us to find ways not to be repetitious. This is the first film Terry has made set in the contemporary world, for instance. That proved very liberating for him as he was able to explore the city without restrictions. It meant that the process was more organic and experiential than in previous films where shooting had to be pre-meditated because of period constraints. He was able to approach a day of shooting as he always dreamed of, as he approaches writing, which is being able to discover ideas and not to preconceive them.
What were the biggest challenges?
SG: We know his system by now. I suppose a large part of the challenge is helping the actors to understand the process, helping them to ground in a freer style of shooting. Many of the actors are very excited by it and embrace it because it's freeing for them. But it is less structured, so that can be a challenge.
That process includes less use of artificial lighting and dispensing with conventional scripting…
SG: Yes. Terry has always loved shooting in natural light, wherever possible. That also speeds us up. People are used to built-in breaks for lighting but we often don't have those.
The script process works differently with different actors and different parts. Sometimes parts are totally scripted and at other times actors don't get a script at all. Once the trust has been established between Terry and the actor they are able to approach the scene like a moment in their own day rather than a scene in movie. That's what reveals the most subtle performances.
How important is religion in To The Wonder and to Malick's work in general?
NG: Everyone who sees a Terrence Malick film will have their own answer to that. It's not about a particular lens of seeing the world or a didactic experience. All of his films allow you to question your place in the universe. Through that, some people find a spiritual journey.
Personally, I'm drawn to Terry's films because they don't tell you what to think. They provide a space where you're able to contemplate the bigger questions we don't always have time to consider every day. And which you may or may not want to ask through a spiritual lens.
Why is he making back-to-back films after previously taking long breaks in between projects?
SG: I don't know whether anyone can fully explain the creative force. But he's certainly on a roll. He's very inspired right now. I expect it has something to do with the team that has formed around him, and the connection he has with them. He has developed a system that he knows works for him.
NG: He's embracing ideas that allow him to work in a freer fashion, in a way where he is able to rely on a few partners compared to many partners. He wakes up every day with thousands more ideas which he brings to us. It's an endless reservoir. It's remarkable. We're sprinting to keep up. He has more energy than anyone I've ever met.
SG: We recently finished shooting Knight of Cups, which is about the LA movie business. Our untitled film, the one set against the music scene in Texas, will begin shooting in a few weeks. It was called Lawless but we agreed to give that name to John Hillcoat.
Christian Bale ia a lead in Knight of Cups and has a supporting role in the untitled film, and both are set in the contemporary world. We'll edit them simultaneously and FilmNation is on board both. We consider FilmNation partners on all of Terry's films going forward.
There's also the epic and ambitious documentary Voyage of Time. There are large parts shot already but it's a multi-year project so there's a way to go yet. Terry has been envisioning it for several decades. Donald Rosenfeld is another producer with us on that and Andreas Roald is executive producer.
NG: I'm also producing Green Blade Rising with Terry. The film is about the difficult youth of Abraham Lincoln. AJ Edwards is directing and Diane Kruger will play Lincoln's mother. We're due to start production in a couple of weeks.
I also recently launched a crowdsourcing distribution service called Tugg, which allows audiences to decide which films come to their towns. We started in the US and will expand internationally in 2013. We have our eyes on the UK, which seems a natural fit.