Dir: David Fincher. US. 2008. 166 mins.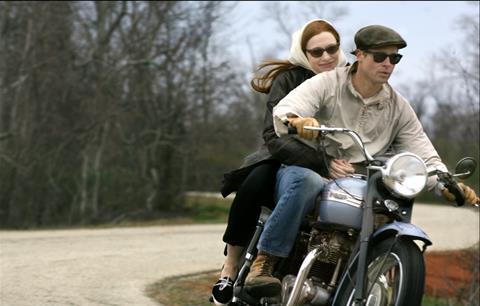 One of the most eagerly anticipated end-of-year studio films, David Fincher's The Curious Case Of Benjamin Buttonis a wildly ambitious fantasy which contains many intriguing elements and superb production values but ultimately fails to cohere as the epic tragedy it wants to be. Buoyed by Fincher's name and the star pairing of Brad Pitt and Cate Blanchett, the film will attract intense media and public interest at first, but the extended running time and convoluted story will prove problematic when it hits thousands of multiplexes around the world.
Paced elegantly, but with determined leisure by Fincher over 166 minutes, this elongated whimsy is not easy to engage with emotionally, even while it frequently recalls writer Eric Roth's own 1994 effort Forrest Gump in its story of a fictional misfit caught up in 20th century history. It even comes with stunning Gump-like special effects. But as you might expect from David Fincher, Button is far less accessible than the blockbusting syrup-fest that was Gump; its deadpan, surreal tone is more reminiscent of Big Fish, Amelie or the John Irving adaptations Hotel New Hampshire and Cider House Rules.
With Paramount handling domestic and Warner Bros on international and a budget close to $100m on the line, the film will be released with careful expertise and is sure to develop a fanbase. But in a competitive season of period epics - Australia, Defiance, Valkyrie among them - and high-end literary and stage adaptations (Doubt, Revolutionary Road, Frost/Nixon, The Reader), Benjamin Button might find itself falling between the cracks as neither mainstream enough for the multiplex crowd nor meaningful enough for arthouse purists.
Roth and Robin Swicord wrote the 'screen story' here, taking the title and basic concept of F. Scott Fitzgerald's short story and creating an entirely different Gump-eqsue odyssey for the titular hero.
The story is told in flashback by Caroline (Ormond), the daughter of a woman called Daisy (Blanchett) who is withering with old age on her death bed in a New Orleans hospital. The TV overhead warns of an impending hurricane hitting ('Katrina', no less). As Daisy lies dying, she instructs Caroline to read to her from the diary of one Benjamin Button.
Button, it emerges, was born to a wealthy couple. The mother dies in childbirth while the father Thomas (Flemying) is horrified to discover that the baby is a wrinkled old creature with ossified bones, arthritis and other symptoms of old age. Disgusted by the sight, he leaves the baby on the door stoop of an old people's home run by sassy black servant Queenie (Henson) who takes Benjamin in, names him and raises him.
As Benjamin grows in size, he also becomes less withered and it becomes apparent that he is aging backwards. He meets the young Daisy (Fanning) and plays with her, even while her grandmother scorns the unusual friendship.
When he hits 17, Benjamin leaves the home and travels the world on the tugboat of boozy Irish captain Jared Harris, spends time in Murmansk where he has his first love affair, with a diplomat's wife (Swinton), and watches his friends die in a World War II sea battle.
Back in the US, he again meets Daisy who has matured into Cate Blanchett and eventually after a series of near misses and misadventures, the two become lovers in a period where their bodies are roughly the same age. But after the golden years, she starts aging while Benjamin keeps getting younger.
Benjamin Button is played by Pitt throughout, with the help of impressive prosthetic makeup and digitally imposing his head onto other actors' bodies. Pitt gives his best performance to date, capturing the weariness of old age as convincingly as the vigour of youth. Blanchett (who is also given a digital rejuvenation for her teenage years) is as superb as ever, although the chemistry between the two is muted to say the least.
The real star of the movie is Fincher, whose imagination has run wild here - from a bizarre prologue about a clockmaker who designs a railway clock that goes backwards, to a sequence of seven shots in which a man is hit by lightening in different circumstances, to a Jeunet-esque sequence of 'what ifs' revolving around the events leading up to a tragic car accident.
The curious thing about Benjamin Button is the questionable profundity of this lengthy saga. Is it a meaningful parable about love and time or is it just a gigantic shaggy dog story' With that in mind, you can't help but look at your watch occasionally and wonder whether some plot meanderings, while always pleasant, have any bearing on the story whatsoever.
Production companies
Kennedy/Marshall
North America distribution
Paramount Pictures
International distribution
Warner Bros Pictures International
Producers
Kathleen Kennedy
Frank Marshall
Cean Chaffin
Screenplay
Eric Roth
Screen story by Eric Roth & Robin Swicord
From the short story by F Scott Fitzgerald
Cinematography
Claudio Miranda
Production designer
Donald Graham Burt
Editor
Kirk Baxter
Angus Wall
Music
Alexandre Desplat
Main cast
Brad Pitt
Cate Blanchett
Taraji P Henson
Tilda Swinton
Julia Ormond
Jared Harris
Jason Flemying
Elias Koteas
Elle Fanning