Dir: Branwen Okpako. Germany. 2011. 80mins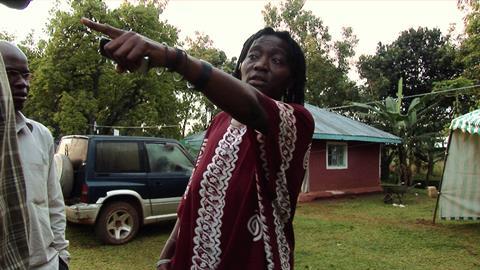 Given the size of Barack Obama's extended family, Obama-lore is a growth industry. The latest installment comes in The Education Of Auma Obama, a portrait of his half-sister in Kenya.
By the end, we still barely know her.
The second feature doc by Branwen Okpako, premiering when the president's popularity is at an all-time low, will test the public's appetite for Obama genealogy, a field first explored in the president's own best-selling books. While a theatrical release seems unlikely for the story that could use more facts and editing, television in the US and Europe will welcome the German production. So will African channels. For its archival interest, the film will have a solid shelf life.
The Education Of Auma Obama begins in Nairobi on the day of Obama's election to the White House in November 2008. We watch relatives celebrate with Auma Obama, born in 1960 to the president's father, Barack Hussein Obama Sr., and his first wife, Kezia Nyandega.
In a tour of the family's property outside Nairobi and in interviews, Auma takes us back to the colonial Kenya of the father and grandfather that she shares with Barack. By Kenyan standards, the family was comfortable. The doc gives us a rare glimpse into the colonial past and the early days of Kenyan independence.
The attractive half-sister also shares the president's gift for words and his sensitivity to the splintering of their generation, thanks to their father's multiple wives. Auma, called Rita by her parents, speaks of Obama Sr. as a stern intolerant man with a penchant for drink. Offered a scholarship in Germany, she flourished at university as a student with an interest in politics and dance.
In eloquent German (spoken occasionally in her interviews) she debates German experts (in a television discussion filmed during her student days) on the cultural assumptions of development policies in Africa.
Branwen Okapako, a classmate of Auma's in film school in Berlin, assembles her portrait with colonial-era photographs and footage, childhood pictures, and an occasional glimpse of travel videos that include Barack and Michelle Obama's visits to Africa. Typical of an admiring work by a friend, there are no troubling revelations, and no hard questions seem to have been asked, certainly not about politics today or about the persistent notion that the president is a Muslim.
Obama's father, who died in 1982, emerges as an unlikeable fellow that Auma struggled to please. He is said to have soured on his country's political elite, which he considered corrupt. It would have been fascinating to have heard more about that.
The doc plays like a work-in-progress, lurching from past to present and from Kenya to Europe and to scenes of Auma instructing African schoolchildren. She now works for the relief organisation Care International, although the film never tells us that.
Facts are simply missing. We learn that Auma married an Englishman and moved to the UK, where she was unhappy, but we never know what happened to the marriage, which seems over. Nor do we know much about her relationship today to the president who credited her in his books with putting his life on a better course.
The Education Of Auma Obama introduces us to a woman of confidence and wit, committed like her half-brother to helping the disadvantaged. By the end, we still barely know her.


Production companies; Filmkantine UG in co-production with ZDF/ Das kleine Fernsehspiel and Branwen Okpako
Producers: Katrin Springer, Volker Ullrich
International sales: Filmkantine UG, www.filmkantine.de
Cinematography: Kolja Brandt
Editor: Branwen Okpako
Music: Jean-Paul Bourelly