Dirs: Dominic Harari, Teresa de Pelegri. Spain-Ireland-France. 2013. 91mins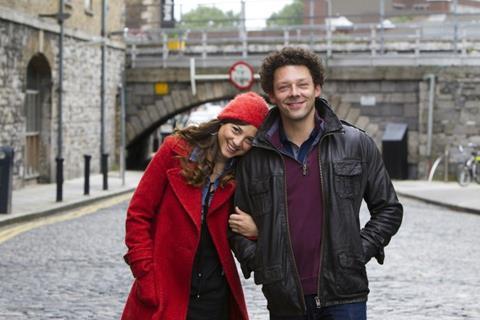 There is a good deal of good-natured by-the-numbers rom-com fun to be had with The Food Guide To Love, and while the ingredients never quite combine to make it a classic dish it is given a delightful dash of heart and verve thanks to the whole-hearted lead performances by Richard Coyle and Leonor Watling.
The Dublin locations are terrific. The film smartly doesn't use traditional tourist spots, but instead presents the city as a warm and watery place where romance can easily bloom.
The film, the second feature from Dominic Harari and Teresa de Pelegri who made 2004's Only Human, received a warm welcome at the Jameson Dublin International Film Festival (following its screening in the Culinary section at the Berlin Film Festival), and certainly it makes great use of its Dublin-backdrop. It has a genial charm that may make it appealing to distributors of mainstream com-rom fare (plus charming bi-lingual actress Watling is well known in home territory Spain and Coyle has a certain cult status in Ireland) and the power of Fox behind it should see it get strong home entertainment and television outings.
Coyle (who starred in terrific Irish genre film Grabbers and is well-known on UK television through series such as Coupling) plays a charming food writer who rebelled against his father's dull Irish cookery but was introduced to the joys of great food while taken on a trip to Spain to follow the Irish football team.
As a kid his 'porn' stash us actually cookery magazines, and as an adult his columns, television appearances and playful charm combine to make him popular with the ladies. But for some reason he can only make it to the six-month mark in any relationship…that is until he meets Bibiana (Watling), a feisty Spaniard who falls for the wrong men including her current boyfriend Fernando (Gines Garcia Millan).
There first meeting is one of those oh-so clichéd 'locked out of girlfriend's apartment with no clothes' moments, but at least Coyle has the charm to get away with the over-used scene, and Watling (not seen enough in English language productions) has the passion and innate intelligence to see why her character would appeal to this lusty food writer.
The film actually finds its footing from that moment as their relationship develops nicely (the irony being that this Spaniard knows nothing about cooking) as they start to develop a life together. But with that six-month deadline looming- plus she insists they visit his parents, who he rarely sees, and then also mentions the 'B' word (baby) – the scene is set for rather predictable drama.
He takes a shine to the red-headed beauty Georgina (Jade Yourell) he was once at school with, while she (rather unconvincingly) falls for the red-bearded (is there is red-head theme here?) political activist Padraig (David Wilmot), and abruptly their relationship hits the rocks and the film spirals off into a rather sudden ending…though one with an equally predictable twist.
Richard Coyle's charm and great sense of physical comedy works well here, and the central on-off relationship with Bibiana is nicely staged (a visit to an underground restaurant where you eat in the pitch black - similar to a sequence in Richard Curtis's About Time– is nicely shot as a thermal image scene) and while they are familiar characters they never quite resort to clichés. Around the edges, Lorcan Cranitch is great as his father Eddie, and Simon Delaney chips in with a genial performance as his chunky best pal Simon.
The Dublin locations are terrific. The film smartly doesn't use traditional tourist spots, but instead presents the city as a warm and watery place where romance can easily bloom. It is odd that it doesn't take the obvious route and shoot a scene in Spain itself (especially since it is a co-production), but the links to Spanish food and the charming central performance by Leonor Watling are enough to give this rom-com dish its Spanish taste.
Production companies: Parallel Film Productions, Fox International Productions, Haut et Court, Tornasol Films
International sales: Fox International, www.foxinternational.com
Producers: Mariela Besuievsky, Mary Callery, Ruth Coady
Executive producers: Gerardo Herrero, Alan Moloney
Screenplay: Dominic Harari, Teresa de Pelegri, Eugene O'Brien
Cinematography: Andru Rebes
Editor: Irene Blecua
Production designer: Tom McCullagh
Music: Ray Harman
Main cast: Richard Coyle, Leonor Watling, Ginés Garcia Millán, Simon Delaney, Lorcan Cranitch, David Wilmot, Jade Yourell