Dir/scr: Yury Bykov. Russia. 2014. 116mins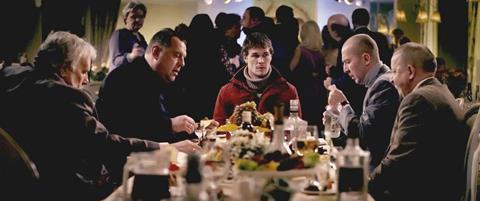 An astute and highly watchable story of an honest man who makes the 'foolish' mistake of trying to change the mindset of an entire system of corrupt bureaucrats, Yury Bykov's The Fool (Durak) is a wonderfully constructed film that takes a subtle-yet-angry swipe at the state of modern Russia.
It is a striking and powerful film, blessed with a series of fine performances that reel in the clichés and tell a stark and often brutal story.
Following on from the critical success of his previous film The Major (which premiered in Critic's Week in Cannes), Bykov is a talent to watch, with The Fool likely to be a must-have on the festival circuit. The Fool had its world premiere at the Locarno Film Festival.
While at heart a gloomy and oddly static film – it uses only a few dark and dour locations – the film moves at a breezy pace while belies it 116 minute running time, driven by the indignantly open performance by Artem Bystrov as an honest man whose only mistake is to let his integrity come to the surface. His performance is beautifully balanced by a wonderful turn by Nataliya Surkova as the mayor in charge of the town whose need to protect herself and her corrupt lackeys outweighs everything.
Dima Nikitin (Bystrov) is a simple and honest plumber who works in a small Russian town. He refuses to get involved with bribery to get on, much to the annoyance of his mother, instead preferring to study for his exams. One night the pipes burst in a nearby housing block mainly occupied by drunkards and outcasts, with Nikitin realising that cracks in the crumbling and leaning building could endanger the occupants.
He sets about gatecrashing a party where all of the local bigwigs – including the mayor, heads of police, fire and building services – are wallowing in wine and food. The mayor (Surkova) takes his comments seriously, but realises that because of the kickbacks and corruption if they evacuate the hundreds of residents into the bleak winter then she has nowhere to put them. Nikitin naively keeps trying to push against the red tape but has little idea how deep the corruption runs and how 'protecting yourself' comes way ahead of the notion of possibly saving the lives of hundreds of ordinary people.
Nikitin's night-long odyssey to fight an entire system of corrupt bureaucrats is the mission of a good man, but he is dubbed a 'fool' by those he comes into contact with – bureaucrats and block dwellers alike – even though he acts with the most honourable of intentions. It is a striking and powerful film, blessed with a series of fine performances that reel in the clichés and tell a stark and often brutal story.
The film, a clear attack on Russia's housing system and the need for much needed upkeep, is a dark and ultimately painful journey, but it is always intriguing and entertaining as it those raises big issues. As Yury Bykov comments:" Such people are very rare today. We call them romantic, altruistic, idealistic or simply 'fools' to stress that they do not act normal in the time when cynicism, fear and indifference have become the norm. Such 'fools' still exist in my country, and it gives hope".

Production companies: Rock Films, New Projects, Ministry of Culture of the Russian Federation
International sales: Rock Films, aylarova@gmail.com
Producers: Alexey Uchitel, Kira Saksaganskaya
Executive producers: Elena Bystrova, Philipp Pastukhov
Cinematography: Kirill Klepalov
Editor: Yury Bykov
Production designer: Stanislav Novak
Music: Yury Bykov
Main cast: Artem Bystrov, Nataliya Surkova, Boris Nevzorov, Kirill Polukhin, Darya Moroz, Yury Tsurilo, Irina Nizina, Alexander Korshunov, Maxim Pinsker, Sergey Artsibashev, Olga Samoshina, Elena Panova, Ilya Isaev, Dmitry Kulitchkov, Lubov Rudenko, Gordey Kobzev, Pyotr Barancheev