Dir/scr: Jean-Claude Brisseau. France. 2012. 90mins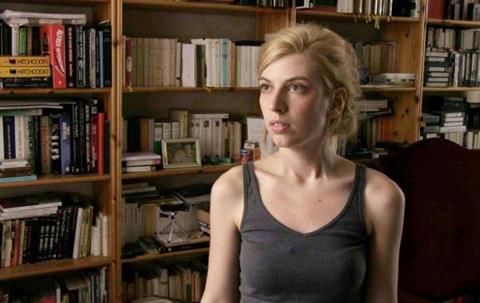 Shot in Jean-Claude Brisseau's own Paris flat with a digital camera, this self-congratulatory reflection and analysis of the unknown (to quote the script itself) offers an almost a parody throwback to the old days of the French New Wave and its more philosophical meanderings. Bound for the smaller screens of Left Bank cinemas and eventually for festivals exploring far-out programming, it is distinctly, to quote the script once more, the result of an artist who has indulged himself into being manipulated by his own illusions. The film premiered at the Locarno Film Festival.
The Girl From Nowhere (La fille de nul part) is more like a home movie made by Brisseau for his own private diary.
A former math teacher who seems far more interested in literature, movies, philosophy and parapsychology, Michel (stolidly played by Brisseau), lives alone since the death of his wife, 29 years ago, in a spacious Paris flat he had inherited from her. One day he hears strange noises from the staircase and finds a blonde young girl, Dora (Virginie Legeay), being attacked by a young man who runs away.
He takes her in but she refuses to call the police or a doctor and promises to quickly recuperate on her own. She installs herself in the flat and except for a short absence, never leaves it until the end of the film. A disturbing but revitalising ingredient in the older man's life, she will help him work on a book he is preparing, listens to his interpretation of the Bible as a fictional work invented in the 7th century BC by order of King Josias, makes tables levitate, invites ghosts from the past (or the unconscious, if you prefer) to come over, finds herself the unwilling heir of everything Michel possesses, until death makes an entrance, in the same arbitrary way as most of the other things in this film.
Brisseau, once earmarked as one of the most promising new talents after his Sound And Fury played in Cannes 1988, obviously sees this as a very personal statement requiring his own presence in the lead. Far too self-indulgent to realize how uncomfortable he is in front of the camera and how speechifying his many soliloquies are, he is stating his intentions from the very first moment.
This is going to be a spiritual journey into the mind of a pure intellectual who inhabits a loftier level than the rest of humanity. He has a Victor Hugo quote for the film's motto (and more Hugo will follow later) and in its first shot, the camera focuses on writings of Freud and Karl Abraham before panning over DVD collections of Frank Sinatra on the one hand and Ingmar Bergman on the other.
The Girl From Nowhere (La fille de nul part) is more like a home movie made by Brisseau for his own private diary, shot with the professional touch indicating how experienced a professional he is, and with the self-indulgent approach of someone who doesn't particularly worry about dissenting opinions, this could be a eulogy for the death of an artist, or possibly, a prologue announcing his next re-incarnation.