Dir: Josh Appignanesi. UK. 2010. 105 mins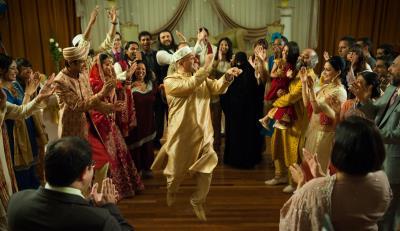 The life-swap comedy genre gets the race and religion treatment with British film The Infidel, a timely and refreshingly edgy tale of a 'relaxed' Muslim who in the same day finds out he is adopted…and happens to be have been born Jewish.
It could strike a chord in markets that appreciate the provocative humour and press attention it might achieve.
There are times when the snappy script by David Baddiel (a well-known British stand-up comedian) hits the target before meandering towards a rather clichéd climax, but the film is driven by British-Iranian actor/comedian Omid Djalili's exuberant and engaging performance and a willingness to poke fun at all religions. While not the easiest of films to sell, it could strike a chord in markets that appreciate the provocative humour and press attention it might achieve.
Djalili (who is a regular in Hollywood films and refers to himself as 'the perfect ethnic everyman bit-part specialist') plays Mahmud Nasir, a good-natured North London family man who might not be the most observant Muslim around, but in his heart is very religious. After his mother's death he finds his birth certificate and discovers he was adopted and his real name is Solly Shimshillewitz.
He heads into a full scale identity crisis, turning to a drunken Jewish cab driver named Lenny (Richard Schiff, best known for his role as Toby Ziegler in The West Wing) to give him some advice on what it is to be Jewish. His wife Saamiya (the admirable Archie Panjabi) becomes convinced he is having and affair, while his new found confusion also causes more than a few problems with his son's plans to marry the stepdaughter of a fanatical Muslin cleric.
The film starts impressively and amusingly as Mahmud interacts with his modern Muslim family – he is not overly devout, overweight and loves his football – with the jokes coming thick and fast as Baddiel's scattershot jokes hit their targets. There are moments of old-fashioned slapstick (especially as Mahmud tries to learn to be Jewish by pretending to be Topol in Fiddler on the Roof) though the comedy momentum is lost as the 'message' about mutual tolerance is leveraged expectedly into the final scenes and the pacing slows down.
The Infidel is efficiently directed by Josh Appignanesi – though things get too static and wordy in the closing scenes - and peppered by a series of smart cameos which help keep things interesting. Particularly good are Matt Lucas (star of the Little Britain TV series) as a belligerent Rabbi; Mina Anwar as the burkha-wearing Muna, best friend to Mahmud's wife, who favours reading gossipy Heat magazine as well as the Qur'an, and comedienne Miranda Hart as a council worker.
Production companies: Slingshot Productions, Met Film
International sales: The Salt Company. (44) 7535 6714. www.salt-co.com
Producers: Arvind Ethan David, Uzma Hasan, Stewart Le Marechal
Screenplay: David Baddiel
Cinematography: Natasha Braier
Production design: Erik Rehl
Editor: Kim Gaster
Music: Erran Baron Cohen
Website: www.infidelmovie.com
Main cast: Omid Djalili, Richard Schiff, Archie Panjabi, Igal Naor, Matt Lucas, Miranda Hart