Dir/scr: Ti West US. 2011 100mins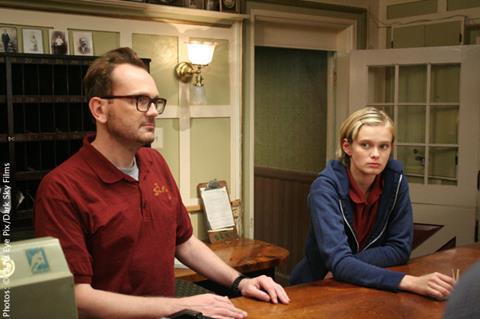 Like director/writer/editor Ti West's earlier The House Of The Devil, this is a low-key, slow-burning supernatural tale in which a vivid, sympathetic female protagonist is progressively menaced in a distinctive locale. Using the real-life Yankee Pedlar Inn in Torrington, Connecticut, as a setting, it's an entry in the 'haunted hotel' stakes which has included Stephen King-derived shockers The Shining and 1408 and benefits greatly from the prosaic creepiness of the location, which is located on an ordinary street with a coffee shop round the corner rather than in the more traditional middle-of-nowhere. The film may be too unsensational for the explicit horror crowd, but stands a chance of connecting with the audience for ghost stories who have made hits of Paranormal Activity and Insidious.
This is at heart an old-fashioned ghost story, made the more piquant by Paxton's sympathetic, funny, vulnerable lead performance.
Twentysomething Claire (Sara Paxton, the lead of the Last House On The Left remake and soon to be seen in the eagerly-awaited Shark Night 3D) works the night shift at the Inn with Luke (Pat Healy), a fellow slacker who maintains a web-site devoted to the hotel's reputedly ghostly resident, a jilted bride who hanged herself in one of the rooms.
It's the last weekend before the place shuts, and there are very few guests - a runaway wife (Alison Bartlett) with a jittery child in tow, a former soap opera actress who is now a psychic healer (Kelly McGillis, held over from the producers' Stakeland) and an elderly gent (George Riddle) who insists on a specific third floor room where he spent his honeymoon even though it has already been stripped of most of the luxuries. Claire initially takes the place's haunted status lightly, and the early stretches of the film include much teasing between the young leads, which masks a deeper relationship that only becomes apparent when the supernatural begins to make itself manifest.
Just as The House Of The Devil looked back to the TV horror films of the 1970s, this is at heart an old-fashioned ghost story, made the more piquant by Paxton's sympathetic, funny, vulnerable lead performance. Quite apart from the film's strengths as a spook show, it serves as a showpiece for the young actress.
Like many ghost stories, it risks seeming tame by serving up subtle hints, false scares and ominous warnings - everyone is well-advised to stay away from the basement, but naturally circumstances decree that they are lured down there - rather than the full-on blood and thunder of outright horror movies. However, there are several high-impact shocks among the delicate chills.
Production companies: Dark Sky Films, Glass Eye Pix
International sales:Dark Sky/MPI, Nicola Goelzhaeuser, nicola@mpimedia.com
Producers: Derek Curl, Larry Fessenden, Peter Phok, Ti West
Executive producers: Badie Ali, Hamza Ali, Malik B. Ali, Greg Newman
Cinematography: Eliot Rockett
Editor: Ti West
Production designer: Jade Healy
Music: Jeff Grace
Main cast: Sara Paxton, Pat Healy, Kelly McGillis, George Riddle, Alison Bartlett