Dir: Hiroki Ryuichi. Japan. 2010. 133mins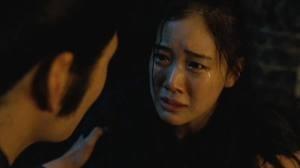 Prolific director Hiroki Ryuichi's first period drama The Lightning Tree fails to throw up many sparks. Although the screenplay contains its share of twists and turns, a combination of weak execution and a lackluster lead performance make this 133-minute film feel overextended and flat.
Lord Narimichi (Okada), the 17th son of a Shogun leader of Edo-era Japan, suffers from hysteria and has trouble controlling himself. On an excursion one day to the Seta Mountains, rumoured to be the home of a goblin, he discovers that the goblin is actually a beautiful young woman named Rai who lives in the forest with her father. They start to fall in love, and when Rai learns that she was kidnapped as a baby from a family in the village, she returns to live with them and takes on her original name Yu. However she is ill-suited to life in society, and she begins to dream of running off together with Lord Narimichi.
The film's central premise is to bring together two estranged characters from opposite ends of the Edo social spectrum. Although the charismatic Aoi Yu brings some sorely-needed life to the film with her portrayal of Rai/Yu, her counterpart Okada Masaki is never truly convincing as a man whose inner demons threaten to tear him apart. Neither is their relationship ever very deeply explored, meaning that there is something lacking in the emotional core of the film.
Weakly staged fight sequences and a heavy-handed musical score fail to add any more punch to the proceedings. Nonetheless the film is moderately successful in creating an evocative setting in the mountains and forests of Seta.
Production companies: TBS Pictures
International sales: TBS, www.tbs.co.jp/eng/programsales/
Producers: Takashi Hirano
Screenplay: Tanaka Sachiko, Kato Masato
Cinematography: Nabeshima Atsuhiro
Production designer: Heya Kyoko
Editor: Kikuchi Junichi
Music: Ohashi Yoshinori
Website: www.tbs.co.jp/eng/programsales/movie/thelightingtree.html
Main cast: Okada Masaki, Aoi Yu, Koide Keisuke, Emoto Akira, Tokito Saburo