Dir: Kamila Andini. Indonesia. 2011. 96mins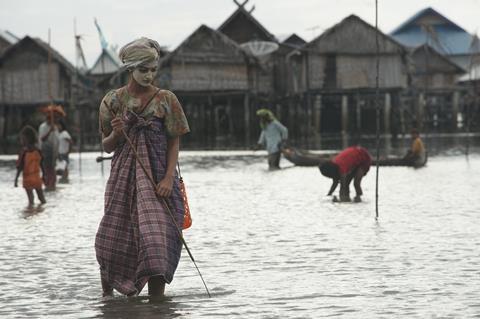 A memorable setting and effective storytelling are the primary strengths of The Mirror Never Lies, an impressive debut work by 23-year-old Indonesian director Kamila Andini.
The artistic strength of The Mirror Never Lies should result in significant festival exposure.
Centered around the Bajo tribe, who lead a nomadic fishing-based lifestyle in the Wakatobi archipelago of southeastern Sulawesi, the film provides much to think about in terms of its anthropological themes, but is just as effective as a well-told coming-of-age story.
Taking place in a small village that literally sits atop the ocean, The Mirror Never Lies is about a schoolgirl named Pakis (Novalista, in a convincing performance). Tormented by the absence of her father, who never returned from a fishing trip, she carries a mirror he once gave to her, in the stubborn hope that a local fortuneteller can use it to identify his location.
Meanwhile a man from Jakarta arrives in the village to do research on dolphins, and rents out a room from Pakis' mother Tayung (Hasiholan). The simmering conflict that has been taking place between daughter and mother over the father's disappearance becomes further complicated by the presence of the well-meaning scientist.
Andini, daughter of well-known director Garin Nugroho (who also produced this film), walks a fine line between creating a story with universal appeal and social relevance, while the same time avoiding preachiness or the exoticism of its protagonists.
Significantly, when the film (which is coproduced by WWF-Indonesia and Wakatoba Regency) introduces environmental themes, Andini ensures that they work simultaneously on a dramatic as well as a social level. For example, Pakis' insistence that young fish be thrown back to the sea is linked to her storytelling father, and to her own identity as a maturing girl.
The artistic strength of The Mirror Never Lies should result in significant festival exposure, although its best hopes of reaching a wider audience may be in playing up its eco-friendly message.
Production companies: SET Film Workshop, Wakatoby Regency, WWF-Indonesia
Producers: Garin Nugroho, Nadine Chandrawintana, Asaf Antariksa, Anastasia Rina
Screenplay: Kamila Andini, Dirmawan Hatta
Cinematography: Rachmad "Ipung" Syaiful
Production designer: Tonny Trimarsanto
Editor: Wawan I. Wibowo
Main cast: Atiqah Hasiholan, Reza Rahadian, Gita Novalista, Eko