The Gulf festivals are playing a central role in the Arab film-making renaissance.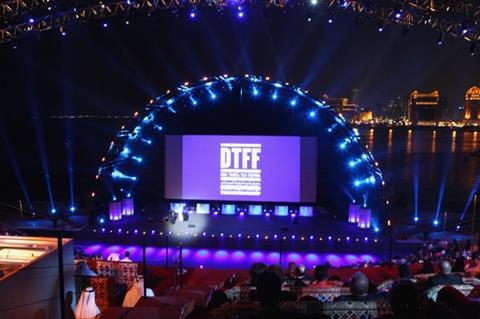 To say this has been a year of transition for the Arab film festival circuit would be a serious understatement. Two of the oldest festivals in the Middle East - Cairo and Damascus - have been engulfed in political uprisings. Cairo cancelled last year's event in the aftermath of the Tahrir Square uprising and is aiming to stage a 35th edition this November, after a last-minute change of director. As for Damascus, the cancellation of its biennial festival last year is the least of Syria's problems right now, and as things stand there is not much hope Damascus will see the 20th edition of the festival that is supposed to take place in 2013.
Even under peaceful circumstances, both festivals - and established ones in neighbouring Lebanon - were already being overshadowed by a trio of lavishly endowed festivals that have sprung up in the Gulf. Starting with Dubai in 2004, then Abu Dhabi three years later and finally Doha in 2009, these events have shifted Middle Eastern film-making's centre of gravity towards the Arabian peninsula. Dubai also added another festival, the Gulf Film Festival in April, which focuses just on the region's cinematic output. And Abu Dhabi has also teamed up with Tropfest, the world's largest short-film festival, to create an Arabic edition that holds promise as an outlet for the region's new talents.
'We have been overwhelmed with the quantity of submissions received from film-makers'

Shivani Pandya, Dubai International Film Festival
The Gulf is not resting on its laurels. For the first time in their brief but high-profile histories, all three of the region's major festivals are being spearheaded at the same time by locals. In July, the Doha Film Institute (DFI) brought in Issa Bin Mohammed Al Mohannadi as the vice-chair of the Doha Tribeca Film Festival following the departure of executive director Amanda Palmer. In August, Abu Dhabi announced that Ali Al Jabri was replacing Peter Scarlet as its festival director. Doha has yet to announce its own new festival director.
With managerial shift has come perceptual change. At the outset, these festivals were primarily known for their prize money and hospitality; now the film world thinks of coming to the Gulf for its own sake. Where festival programmers once had to chase down premieres, they are becoming spoilt for choice.
"We have been overwhelmed with the quantity of submissions received from film-makers and the quality of films is incredible," enthuses Shivani Pandya, managing director of the Dubai International Film Festival (DIFF). "This further strengthens the Muhr competitions, a key element of the festival that sees films vying for more than 36 awards and upwards of $600,000 in prize money."
DIFF, like its Gulf rivals, is the happy beneficiary of a virtual cycle now being played out across the Arabic-speaking film world. The Arab Spring has stoked global curiosity in the region's film-makers; more of their stories are being realised as a result of an expansive range of support offered by the festivals, and this in turn has helped make their films more desirable to international buyers. "At least 12 Arab films have scooped up major successes across Europe, the Americas and Africa within months of premiering in Dubai," says Pandya.
The next step in that evolution will be when buyers come to the Gulf to snap up films. While the festivals have become fertile hunting grounds for co-producers, key distribution deals for finished films are still done elsewhere. This is true even for films backed by the festivals. The DFI provided a significant portion of the budget for Mira Nair's The Reluctant Fundamentalist, and while the film will open the Doha Tribeca Film Festival this November, it was actually launched at Venice and Toronto where it was bought by Italy's Eagle and IFC Films in the US. Saudi hit Wadjda followed a similar path, scoring deals with Sony Pictures Classics and others out of Venice and Toronto, despite being made with Dubai and Abu Dhabi support.
ARAB WORLD FESTIVALS
Abu Dhabi Film Festival (UAE)
Oct 11-20, 2012
Tropfest Arabia (Abu Dhabi, UAE)
Oct 26, 2012
Carthage Film Festival (Tunisia)
Nov 16-24, 2012
Doha Tribeca Film Festival (Qatar)
Nov 17-24, 2012
Cairo International Film Festival (Egypt)
Nov 17-Dec 6, 2012
Marrakech International Film Festival (Morocco)
Nov 30-Dec 8, 2012
Dubai International Film Festival (UAE)
Dec 9-16, 2012
Cinema Days of Beirut - Ayam Beirut Al Cinema'iya (Lebanon)
March 15-22, 2013
Docudays - Beirut International Documentary Festival (Lebanon)
April 10-14, 2013
Gulf Film Festival (Dubai, UAE)
April 11-17, 2013
Alexandria Film Festival for Mediterranean Countries (Egypt)
Sept 2013