Dir/scr: Pascal Laugier. Canada/France. 2011. 106mins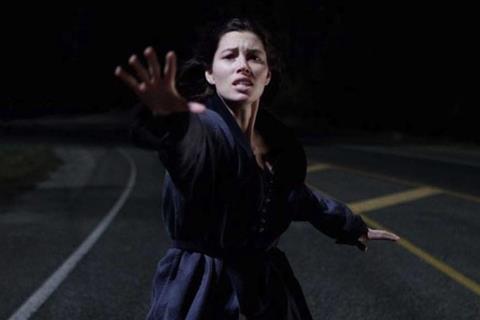 If it seems at first to be a fairly standard genre outing, The Tall Man, the English language debut of French horror new waver Pascal Laugier, soon turns into something more intriguing but also more messy. Though the intrigue - and Laugier's reputation as creator of 2008 gore-fest Martyrs - should get this twisty thriller talked about by serious genre fans, the messiness seems likely to stop the film becoming much more than a cult video item.
After its first big plot twist, however, the film plays more like a crime thriller.
The France/Canada co-production, which is already available on VOD in the US, gets a limited US theatrical release through Image Entertainment on Aug 31 and should get a bit of a boost from the presence of star Jessica Biel (known to horror fans for the remake of The Texas Chainsaw Massacre). Laugier's name may help in France - where SND releases next month under alternative title The Secret - and some other European markets.
Biel plays Julia, the local nurse in an isolated and decaying Pacific Northwest mining town. The town's children have been disappearing one by one and the townsfolk blame the Tall Man (no relation to the character from the eighties Phantasm films), a mysterious, shrouded giant who some claim to have glimpsed in the nearby forest.
When Julia's ward is abducted she tries to rescue the young boy with help from a detective (Stephen McHattie, from The Watchmen) and a local teenager (Jodelle Ferland, from Twilight: Eclipse) who doesn't speak but sees more than she lets on.
Laugier, who also wrote the script, sets the mood efficiently if conventionally, with lots of rain and thunder and some nicely spooky locations (found in British Columbia, Canada). Initially the film seems headed in the direction of supernatural horror, though there's none of the extreme violence that earned Martyrs plaudits from the hardcore horror crowd (and got Laugier associated with the New French Extremity movement).
After its first big plot twist, however, the film plays more like a crime thriller. And a second twist turns it into something akin to a social issue drama.
The twists certainly keep things interesting but they change the dramatic focus so abruptly that it's hard to stay with the film through to its fourth wall-breaking final frame.
Production companies: SND - Groupe M6, Radar Films, Mind's Eye Entertainment
US distribution: Image Entertainment
International sales: www.sndm6group.com
Producers: Clément Miserez, Kevin DeWalt, Jean-Charles Lévy, Scott Kennedy
Executive producers: Gerard Demaer, Lisa Donahue, Mark Montague, David Cormican, Nicholas Manuel, Olivier Piasentin, Matthieu Warter, Frank White, Jessica Biel, Thierry Desmichelle, Lionel Uzan, Steven Schneider
Director of photography: Kamal Derkaoui
Production designer: Jean Andrè Carrière
Editor: Sebastien Prangere
Executive music producer: George Acogny
Music: Todd Bryanton
Website: http://tallmanthemovie.com
Main cast: Jessica Biel, Jodelle Ferland, Stephen McHattie, William B Davis, Samantha Ferris