Dir: Celina Murga. Argentina-Germany-Netherlands 2013. 92mins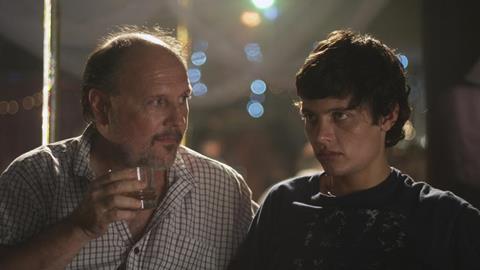 The traumas of family life and young manhood are given a brooding, elliptical spin in The Third Side Of The River (La Tercera Orilla), the fourth feature by Argentinean director Celina Murga (following her documentary Normal School). The opening credit 'Presented by Martin Scorsese' relates to the grandee's mentoring Murga on the Rolex Mentor and Protégé Arts Initiative, although you might, at a stretch interpret the film as just a touch Scorsesean - if only in that its taciturn brooding protagonist perhaps has the makings of a teenage Travis Bickle.
It's an intelligent, contemplative film, its social details finely sketched, and well acted.
The film is uncompromising in the sense that Murga leaves us to interpret the generally low-key events in this picture of everyday life - but Third Side's intriguing, elliptical qualities aren't in the end quite distinctive enough to make it stand out as more than an intelligent, downbeat auteur piece. Solid festival presence awaits, rather than significant theatrical prospects.
The drama is set in a small town in Argentina (key filming location is listed as Entre Rios) where we first see what appears to be a happy family spending quality time. There are two middle-aged and still amorous parents, Jorge (Veronese) and Nilda (Ferrero), and three kids, Nicolas aka Nico (Devetac), who's on the verge of adulthood, his 14-year-old sister Andrea (Wetzel) and much younger Esteban (Orcini). But it emerges, through a series of brief, seemingly inconsequential scenes, that this isn't the solid nuclear unit it seems.
Nilda and the children live in modest circumstances, while estranged Jorge, a wealthy, prominent doctor, only drops in occasionally to distribute largesse, while himself seemingly living with a barely-glimpsed woman, mother of a kid named Lautaro.
The film focuses on Nico, ostensibly a well-balanced regular lad, as he hangs out with friends, defends Lautaro from school bullies, visits Jorge at his ranch, and prepares for an internship at his dad's hospital. But Nico becomes increasingly withdrawn and taciturn - the film's unexplained title alluding to the 'non-place' quality of Nico's life, his 'square peg' status.
As slivers of everyday drama slowly accrete, the film never quite states what's eating Nico, leaving it to us to eke out a picture of his psychology. As for Jorge, he seems concerned and supportive in some ways - encouraging Nico to prepare for the future and step into his footsteps and even, in an time-honoured macho tradition, setting the lad up with a pliable bar girl (Nico sullenly declines).
Something, clearly, has got to give - and the film suggests that it's going to give during the lavish 15th birthday party that the family is planning for Andrea. In fact, Murga cleverly plants the film's big surprise just before this - an explosion that genuinely comes out of the blue - leaving us to absorb the shock, and to try and fathom it, during a contemplative, downbeat final act.
It's an intelligent, contemplative film, its social details finely sketched, and well acted - with Wetzel's coquettish energy contrasting nicely with the multiple shades of surliness and introspection that the impressive Devetac brings to his lead role. But ultimately the low-key, fragmentary approach makes the film a rather more introverted experience that it ideally might have been.
Production companies: Tresmilmundos Cine, Rommel Film, Waterland Film
International sales: The Match Factory, www.the-match-factory.com
Producers: Juan Villegas, Celina Murga
Screenplay: Celina Murga, Gabriel Medina
Cinematography: Diego Poleri
Editor: Eliane Katz
Production designer: Sebastian Roses
Main cast: Alian Devetac, Daniel Veronese, Gaby Ferrero, Irina Wetzel, Tomas Omacini