John Travolta is unique among marquee-names for the breadth of genres he has tackled, his lack of reliance on sequels and his ability to play both good and bad guys to equal effect. In the first of a series looking at the box-office track records of producers, film-makers and stars, Leonard Klady assesses Travolta's performance outside the US.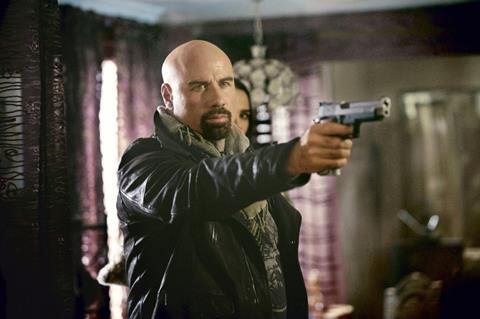 In the roughly three decades since starring in Saturday Night Fever, John Travolta movies have grossed in excess of $1.7bn theatrically in the international marketplace.
There is no question he is a marquee name, a star, an audience magnet. But in a number of key commercial and artistic areas he remains unique and distinctive from his peers. For starters, his pictures are apt to gross less in the international arena than in the US and Canada, and that generally is not the case for Tom Cruise, Will Smith or Mel Gibson.
"He has fronted musicals, comedies, dramas, and played both hero and villian without any diminution of appeal."
Travolta's action film From Paris With Love started its international roll-out in early February. After four weekends on release the film had grossed $9m from roughly 15 international territories. Its best engagements (to February 28) have been France, with $2.5m, Russia with $2.4m and Australia at $1.2m. Italy, Germany, Japan, South Korea and Mexico are among major territories yet to open at press time, but based on current results the film will have difficulty reaching $40m internationally.
The actor's most significant international success is arguably Saturday Night Fever, with an international box office which exceeded its $94m domestic gross by more than 50%. His other major hits, including Pulp Fiction, Grease, Face/Off and Look Who's Talking, had virtually carbon-copy returns in the two realms. Such films as Hairspray (which took 32% less internationally than domestically), Phenomenon (-51%), Wild Hogs (-49%) and The General's Daughter (-49%) were major disappointments when put up against the North American yardstick.
The most telling difference between Travolta and any other seasoned box-office attraction is that he has never powered a movie franchise. And his participation in movie sequels could be described as paltry. There was the Saturday Night Fever follow up Staying Alive, the rapidly diminishing appeal of two Look Who's Talking sequels and Be Cool, a continuation of his Chili Palmer character from Get Shorty.
It is also the case that Travolta has been more adventurous in his acting decisions. None of his contemporaries can claim the variety of challenges and genres he has tackled. He has successfully fronted musicals, comedies and dramas. And most telling of all, he has played both hero and villain without any seeming diminution of appeal. Historically his films play well in all major nations with no discernible spike or drop based on the material or theme.
"The commercial downside for Travolta might be distilled as having to reinvent himself with every new film."
Travolta's commercial downside might be distilled as having to reinvent himself with every new film. Other stars, at moments of fragile bankability, tend to return to projects with seeming bulletproof credentials. Bruce Willis can take Die Hard out of mothballs and Cruise recently announced he will suit up for Mission: Impossible IV.
In the past decade the kid from New Jersey has played two expiring roles in The Taking Of Pelham 123 and Swordfish, as well as donned a dress for Hairspray. He was supposed to reprise his role in Wild Hogs but a new regime at Disney scuttled that film's sequel plans. So, apart from likely upcoming relief flights to Haiti (Travolta is a licensed pilot and has made two mercy missions to the island), his next move is uncharted — but judging by the past, it will be unexpected and surprising.
Click here for Travolta's top 20 films at the international box office.