Rising Brit actor Toby Kebbell stars in The Veteran, an action thriller about a soldier trying to fit back into society after returning from Afghanistan, which is currently shooting in London, directed by Matthew Hope.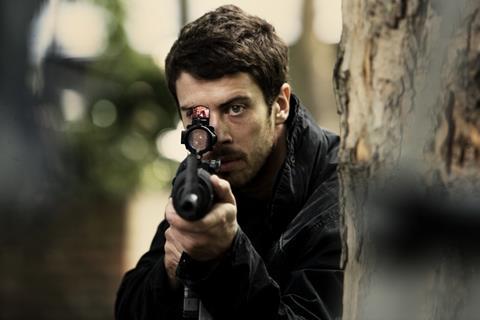 Synopsis: A disillusioned soldier returns from Afghanistan and is recruited into covert surveillance where he becomes obsessed with saving a muslim woman from a group of terrorists, only to discover a wider conspiracy involving the intelligence services.
Director: Matthew Hope
Writer: Screenplay co-written by Matthew Hope, Robert Henry Craft and Adam Tysoe.
Producers: Kim Leggatt and Debbie Shuter
Cast: Toby Kebbell, Brian Cox, Ashley Thomas, Adi Bielski and Tom Brooke.
Budget: £2m
Financing: Private financing, Premiere Picture (tax fund), UK tax credit
International Sales: In Tandem
Language: English
Locations: London (including Canary Wharf, the Isle of Dogs, a strip club in Hackney and an ex army barracks turned studio in Mill Hill)
Shoot dates: June 28 to August 7th
Status: Shooting
Release date: promo at AFM, with a view to a worldwide release Spring 2011

Currently shooting in London, The Veteran is an action thriller starring 2009 BAFTA Rising Star nominee Toby Kebbell as an ex soldier who returns from Afghanistan and, struggling to come to fit back into society, becomes embroiled in uncovering a terrorist plot.
"It's going to be very real, says director Matthew Hope, who co-wrote the script with ex SAS man Robert (Bob) Henry Craft. "Obviously, we want it to be exciting and thrilling, but I've tried to make all the action scenes very believable. I want to show that, when people get killed, they just drop to the ground."
The film began life when Hope, whose first feature was the 2008 action horror The Vanguard, met British producer Kim Leggatt. She was instantly drawn to the project and set about raising the finance with producing partner Debbie Shuter, whom she met on the set of Joy Division in 2005. "There is an awful lot of press about soldiers coming back and not being able to fit into society, so it's a good topical story. We wanted to show it how it is, but we also knew we had to make a piece of entertainment, and make something that would get a young audience into the cinema," says Leggatt, who read the script in Spring 2009, and just over a year later, is nearing the end of the six week shoot.
"This film was quicker than usual, because we were able to get a private equity investor [the producers won't name her, but Hope revealed that she works in the medical industry, hence her interest in the film's topic of post traumatic stress syndrome]. If we had been relying purely on the UK film industry to fund this movie, we wouldn't be here." says Leggatt.
Still, Shuter admits that there can be downsides to private financing. "It makes it harder to get the film out into the world, because you don't have the industry's backing, and you don't have the key players to open doors for you."
The producers were always clear that their budget had to be around the $3m (£2m) mark. "From an independent producer point of view, if you can make a film for $3m (£2m), the likelihood is, you're going to get your money back. It's a good benchmark," says Shuter.
Still, the film-makers are not letting a modest budget get in the way of their bigger scale aspirations. "I'm trying to use the same techniques as Michael Mann, so you feel like you are actually in the gun battle, like in Heat. Children Of Men is also a big influence on the film, because it's very cinematic, but lets the scenes play out. I like to describe it as classically rough," says Hope, who cites Rocky as the film which inspired him to become a director.
"We have started to look at the marketing in a very Bourne Identity style. A lone hero against the system. When you look at the imagery, Toby [Kebbell] is very much like the Matt Damon character" adds Leggatt.
Hope always had Kebbell, who won a BIFA award for his performance in Anton Corbijn's 2007 indie hit Control and who has been making waves in Hollywood with his roles in The Prince Of Persia and The Sorcerer's Apprentice, in mind for the film's lead. "He is just a brilliant actor, and he and I saw the character in exactly the same way when we talked about it," he explains.
In Tandem is handling international sales, on the project and the producers say that a UK distribution deal is close. They are also confident that the film will have international appeal. "We didn't want the down and dirty turgid British film. It's a universal story which has the capability to travel," says Shuter.
Next up: Leggatt and Shuter are planning to produce together again, and have several projects in development. "It would be nice to feel good movie next. This has been a very testosterone fuelled movie, and as women, we have felt very outnumbered!," says Shuter. "Or a comedy," adds Leggatt.
Matthew Hope says he has got "lots on the go. As soon as we finish and go into the edit, I'll start writing again. I've missed it."
How would he feel if Hollywood came knocking? "I'll probably never make a feel good film, but I would love to make one of those huge budget movies. Just not yet."