Dir: Jin Chen. China. 2011. 125mins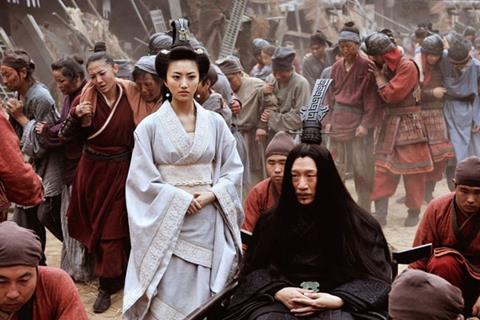 A grand historical epic that evinces some impressive costume design and much natural scenic beauty, but never locates a particularly persuasive or enrapturing tone, The Warring States tells the story of two historical Chinese figures whose head games and obstinance threaten to bring ruin to competing kingdoms.
Its action staging and editing come across as jumbled and nonsensical.
Opening Stateside in major metropolitan markets as part of distributor China Lion's exclusive deal with AMC Theatres (only Vancouver and Hawaii have separate distribution arrangements), the film, in Mandarin with English subtitles, should play solidly to Chinese-American audiences, but will otherwise not be an impact player with English-speaking filmgoers, even of the arthouse variety.
Set during China's Warring States Period of 475-220 B.C., the movie centers on the historical rivalry between military strategists Sun Bin (Honglei Sun) and Pang Juan (Francis Ng), former colleagues whose friendship degrades into a rivalry that involves bitter jealousy and accusations of treason. Sun, presented as the affable protagonist of the picture and a sort of Zen anti-warrior, falls for Qi warrior princess (Jing Tian), who spurns his hapless romantic advances.
After Pang becomes a top military general for the Wei State, he kidnaps Sun and tries to tap into his strategic knowledge to compile a masterful book on the subject of war, with the intention of killing Sun after its completion. After having his legs amputated, though, Sun feigns madness, gets paroled, and escapes to the Qi State, where he later leads an army against Pang in battle.
Helmed by former Xi'an Film Studio director Jin Chen (Crossing Over), the movie, shot by cinematographer Hyung-Ku Kim, takes advantage of some wonderful outdoor locations in the northern Henan province of China. Its action staging and editing, however, come across as jumbled and nonsensical, mixing slow-motion, quick edits and some CGI effects in an unconvincing manner.
The screenplay jumps back and forth between kingdoms, never really convincingly digging into the competing political motivations over a disputed border city, nor catching fire as a stirring action entry. Furthermore, some of the subtitles, which unfold at a quickened clip, seem a bit off, and/or out of step with the era ("What's up?" quips one character, at an awkward moment).
The varied nature of The Warring States' pan-Asian cast (comprised of Chinese, Hong Kong, South Korean and Japanese actors), which was a big pre-release issue for Memoirs Of A Geisha, seems to have elicited no particular outcry here. And the cast gamely perform their roles.
The exception is one of China's more popular actors, Honglei (The Road Home), who is given material and makes choices that play up Sun's goofiness. While this approach is sometimes of short-term benefit, injecting scenes with a humanising comedic value, in the long run it undercuts any sense of accumulated gravity or tension.
Production companies: Beijing Starlit Movie & TV Culture Company
US distribution: China Lion
Producer: Lu Zheng
Screenplay: Shen Jian
Cinematography: Hyung-Ku Kim
Website: www.ChinaLionEntertainment.com
Main cast: Honglei Sun, Jing Tian, Kim Hee-Seon, Francis Ng, Kiichi Nakai, Jiang Wu