Dir: Anna Kazejak. Poland-Denmark. 2014. 97mins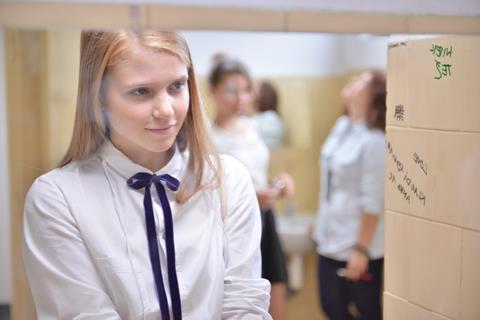 The 'coming-of-age-thriller' is a pretty fresh film concept, and it is brought impressively to life in Anna Kazejak's beautifully moody and well-sustained film The Word (Obietnica), which takes the turmoils and traumas of teen-romance to a whole new – and rather dark – level.
The Word is beautifully shot and darkly elegant,
The film, inspired by real events and which screened in the Generation section of the Berlin Film Festival, is at its core a familiar tale of manipulated revenge, but given a fresh and rather disturbing spin in that it is undertaken by teenagers who are driven by rather naïve passions and are seemingly unable to fully grasp the impact of their actions. Set against the backdrop of contemporary Poland, it is actually a film that could be set virtually anywhere – and it would be easy to imagine a US remake – and still carry the same moral message.
The film has a naturalistic quality to it, and it is no accident that it is a Danish-Polish co-production (director Kazejak is an admirer of Lars von Trier and Dogme '95), with the actual shooting location being Szczecin, a city on the Polish-German border, but a city that actually lies closer to Berlin or Copenhagen than to Warsaw.
The film opens in a familiar fashion for any who have watched teen angst films. Fourteen year-old Lila (the contained and watchable Eliza Rycembel) and her boyfriend Janek (Mateusz Wieclawek), who is a year older, are in love but foolish Janek had been spotted kissing another girl at a party. They communicate via text, phone, Facebook and Skype, but she refuses to forgive him, despite his tears and protestations of love.
On their last day at school Janek pleads for another chance. But for Lila to contemplate forgiving him, he must do something for her. It is never clearly spelled out – which adds a rather nice mystery element to the film – but she expects it to take place on the last night of term at a large party by the lake. The implication (given later police involvement) is that he does something terrible to placate her, but the film focuses on the emotional intensity of these young people rather than the practical ramifications of their actions.
The film impressively details the sheer intensity and rather odd impersonalisation in the way young people may communicate, which allows for misunderstanding, miscommunication and sheer obsession to all come together. Though Lila is a rather cold and manipulative person, she acts without real guilt as if what happens is less than real and distanced by the way she communicates online and via mobile phone.
The Word is beautifully shot and darkly elegant, with Anna Kazejak delivering both coming of age drama and crime-thriller, but without the traditional clichés that normally define such films. It is a darkly compelling film and well worth further festival attention.
Production companies: Opus Film, SF Film Production, Cameo Film, Mainstream
International sales: KelevK, www.levelk.dk
Producer: Łukasz Dzięcioł
Co-producer: Jesper Morthorst,
Screenplay: Magnus von Horn, Anna Kazejak
Cinematography: Klaudiusz Dwulit
Editor: Morten Højbjerg
Music: Kristian Selin Eidnes Andersen
Main cast: Eliza Rycembel, Mateusz Wieclawek,
Magdalena Poplawska,
Dawid Ogrodnik,
Andrzej Chyra