Dir: Sebastian Lelio. Chile. 2011. 82mins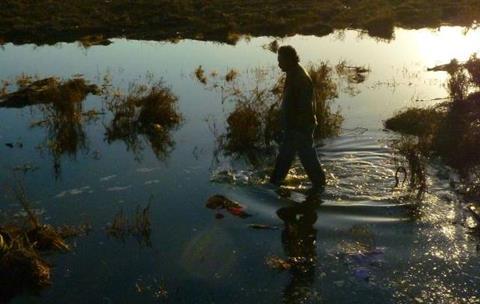 An existential metaphor whose philosophical implications may reach way beyond the realm or the capacity of cinema to deal with, this is yet another grim and forbidding look at human condition, Latin-American style.The film screened in competition at Locarno.
This is first and foremost an allegory, not to be taken literally but inviting the viewer to seek the messages hidden into it.
Ostensibly inspired by real events that took place during the 2010 earthquake and the subsequent tsunami that hit the Chilean coast, it is the tale of a convict who escapes from prison thanks to an Act of Nature (God not being mentioned in this context) and embarks upon a catastrophic journey before going back to jail. Shot in locations that had been ravaged by the natural cataclysm, The Year Of The Tiger (El ano del tigre) targets first and foremost festivals with a sizable art house niche, but might find its way into a modest scale distribution.
A Chilean prison is wrecked by an earthquake and one of the prisoners, Manuel (Luis Dubo) runs away, rejoicing his new-found freedom and wary of the police patrolling the country in ruins. His first impulse is to go back home, but he finds it in shambles, his wife and daughter gone, probably dead.
Next port of call is his mother's home, but the old woman is lifeless on the floor and all he can do is dig for her a rudimentary grave. As he goes on roaming through the devastated coastline, he stumbles over an iron cage with a half-dead tiger lying in it. He breaks the lock to let it out, and pursues his desolate journey through wild stretches of nature, away from the main road, accompanied by faraway sounds and sights of wreckage and misery.
The further he gets, the closer he becomes to a hunted animal, relying only his instincts for survival. A chance encounter with a man (Sergio Hernandez) who had obviously just shot the tiger re-enforces for Manuel the basic laws of survival, eat or be eaten, kill or be killed. By the end of the film, just like in real-life, Manuel is on his way back, almost relieved, to the calm, placid, uneventful security of the jail.
The script focuses exclusively on Manuel's grueling outing in a world full of pitfalls, anguish and fear, in which he may be free to make his own choices but at his own risk and danger, not the least of them generated by his fellow men. A large part of the audience may feel cheated when no real adventures decorate this round trip, just a mounting series of hardships which Manuel does his best to surmount. But just like Lelio's debut film, The Sacred Family (2005), this is first and foremost an allegory, not to be taken literally but inviting the viewer to seek the messages hidden into it.
Using almost no dialogue (whatever there is was improvised by the actors), with a minimal narrative line, relying entirely on the impact of his documentary-like images and on the stubborn insistence of his lead actor, Luis Dubo, who prowls the country very much like the tiger whose liberation turned into a death sentence, the film suggests that freedom may be too much and too complex for humans to handle. A worthwhile philosophical message that could turn out to be dangerous, once entrusted into the wrong hands. For every dictatorship in the world will be only too happy to agree with it.
Production company: Fabula
International sales: Funny Balloons, www.funny-balloons.com
Producers; Juan de Dios Larrain, Pablo Larrain, Gonzalo Maza
Executive producers: Mariane Hartard, Andrea Carrasco Stuven, Juan Ignacio Correa
Screenplay: Gonzalo Maza
Cinematography: Miguel Ioan Littin
Editor: Sebastian Sepulveda, Sebastian Lelio
Production designer: Fernando Briones
Main cast: Luis Dubo, Sergio Hernandez, Viviana Herrera